Peer Support One-on-One & Follow Up Sessions
To book a session, fill out our online registration form below; call us at 1-833-FØUNDRY with a zero or 1-833-308-6379; or email us at online@Foundrybc.ca. You do not need to see a counsellor to book a peer support session.
Registration Form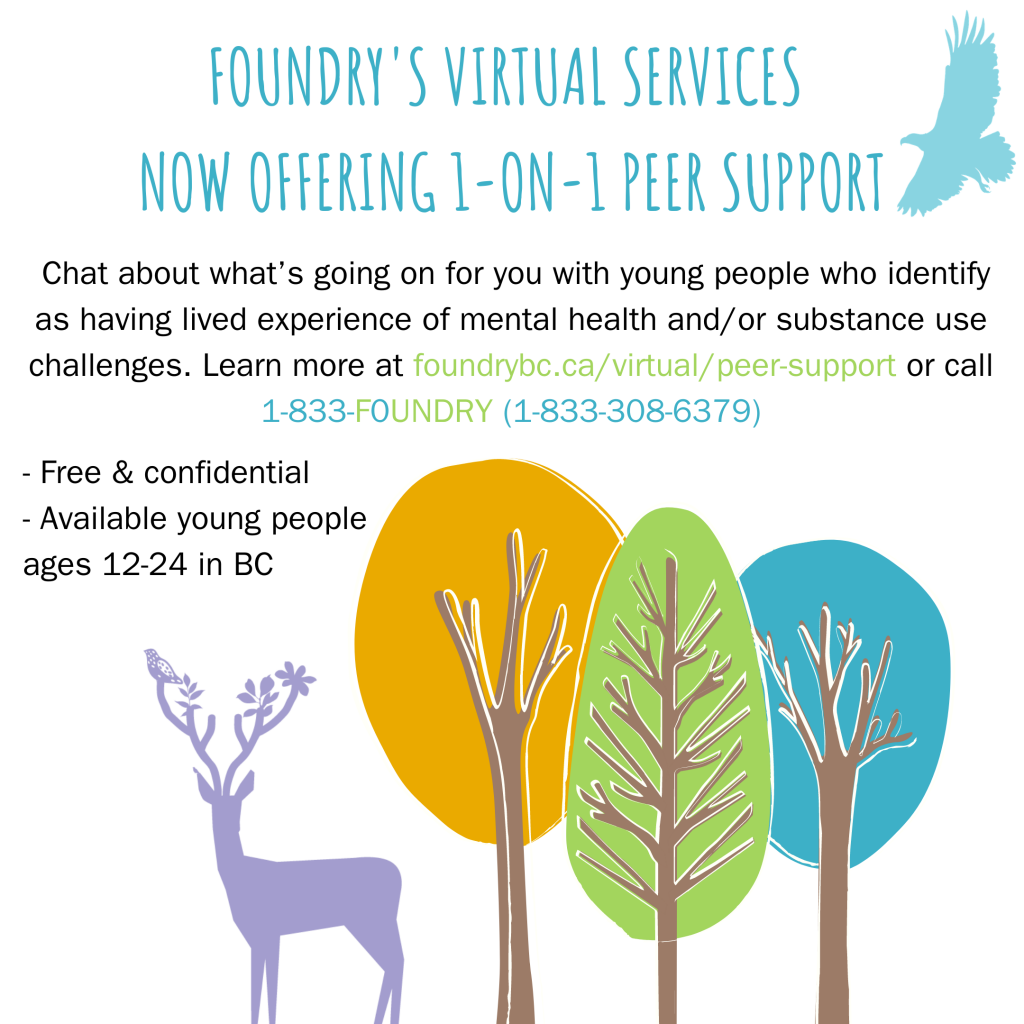 What is peer support? 
Youth Peer Support Workers are young people who identify as having lived/living experience of mental health and/or substance use challenges. They utilize their experience as their expertise, along with peer support training, and help other young people discover that they are their own expert as well. A peer supporter recognizes you as an expert in your own life and will work collaboratively with you on your goals.  
The goal of peer support is to provide emotional support, acceptance, validation, and empathy regardless of circumstances. The focus is to ensure the person feels support in their recovery and healing. More importantly, peer supporters ensure people in need of help are not isolated. 
What can I expect when working with a Peer Support Worker? 
They

 will 

hold space

 and for you to talk about whatever is going on for you

.

 

They will 

provi

de

 encouragement around

 your

 goals and ambitions. 

 

With similar lived 

experience, Peer

 Support

 Workers

 will walk alongside you in your journey towards wellness

.

 

Youth Peer Support

 Workers

 empower

 you to find and strengthen your voice to advocate for yourself and the life you want to lead. 

 

The flexibility of peer support

 

workers

 can also complement other treatments and support services. 

For example, if you're seeing a counsellor, it may also be helpful to see a 

peer supporter worker at the same time. 

 

Navigating the healthcare system and learning about the many services available can be difficult. Peer support

 workers 

 can help young people understand services and treatment available to them as well as help them advocate for themselves, their friends and their family.

 
What Peer Support Services are offered?
One-On-One Services
You can connect one on one with a Peer Support Worker to chat about what's going on for you or to learn more about Foundry's virtual services. Peer Support Workers are young people with lived experience trained to walk alongside you in your wellness journey. You do not need to see a counsellor to book a peer support session.
Follow Up Sessions
A peer supporter check-in session can be made within a few days of your Foundry Virtual counselling appointment. Sessions are booked as one-time appointments and will be approximately 45 minutes in length. Sessions will be booked after your counselling appointment if you decide you want to connect with a peer supporter.
Peer Lead Groups
Foundry virtual also offers a number of groups and workshops (some hosted by peer support workers!). Learn more about the workshops at foundrybc.ca/virtual/youth-groups.
Have questions? For more information on Foundry Virtual's peer support follow-up services, email online@foundrybc.ca or sign up for our newsletter! Heads up – this is to learn more and book with Foundry Virtual Peer Supporters- our online foundry centre that offers services to young people and their families from the comfort of their own home. We work closely with our in-person foundry centres, but this is not the place to book an online appointment with your local centre. To book an appointment with your local centre, check out this page
Due to spam settings in Gmail accounts, you may be missing out on important messages from our team about your appointment/group! To ensure responses from us don't go to your spam folder, you will need to set up your filter settings
Log in

to

your Gmail account
Click the GEAR icon at the

to

p right and then click SETTINGS.
Go

to

"FILTERS AND BLOCKED ADDRESSES" and click "CREATE A NEW FILTER".
In the "HAS THE WORDS" section, type @Foundrybc.ca

to

 keep our 

email

s out of your Spam Folder.
Click "CREATE FILTER".
Check "NEVER SEND IT

TO

 SPAM" and "ALSO APPLY FILTER 

TO

MATCHING MESSAGES" boxes.
Click "CREATE FILTER" again.