MEET SHANE, FAMILY PEER SUPPORTER AT FOUNDRY BC VIRTUAL
Shane is a family peer supporter with Foundry Virtual BC. Shane resides in Kelowna with his family, kids, and dog. He is passionate about mental health, addictions, sharing his lived experience and empowering parents to take care of themselves while supporting their young person. 
Learn more about some frequently asked questions we receive about family peer support.
How can Family Peer Supporters help me? 
Family peer supporters meet you wherever you are along your journey with your loved one. We understand everyone's situation is unique and dynamic, because we've supported loved ones in our lives too! Through our peer support training and extensive lived experience, we can offer family members and caregivers:
A safe space to be heard
Opportunities to dispel myths
Discuss and explore self-care techniques
Provide resources or further support options
Support with identifying goals and a roadmap to reach your goals
We work from a place of not wanting others to feel alone on their journey helping their loved ones. We understand that it is often not easy supporting your child or loved one as they experience a mental health or substance use challenge.
What brought you to your role as a Family Peer Supporter?
I went through a mental health crisis myself in my teenage years and into my 20's. When I finally committed to seeking help and getting appropriate services to help me through what was a major depressive episode, I found myself accessing peer support services. In many ways, these services were life changing. They allowed me to not feel so alone, gave me tools I could use in my recovery journey and was a very non-judgmental environment.
As I came to a place of wellness, I felt compelled to give back to the very community that gave so much to me. It led me to becoming a trained peer support worker and going back to school to further my education. I dove into 10 years of mental health and addictions front line work through my local health authority and non-profit organizations.
Once I became a parent of youth who had their own individual mental health concerns, I wanted to continue to give back my knowledge and expertise through what is now Foundry Virtual BC as a family peer support worker. My hope is that more families across the province can gain access to our services, particularly in areas without their own Foundry centre.   
I've heard Foundry Virtual BC offers Family Peer Support services, what type of service is this?
Family Peer Support services are offered by caregivers with lived experience supporting youth with various mental health, substance use or general life challenges.  A Family Peer Supporter has often lived through similar experiences supporting a loved one and is there to listen, validate, provide emotional support, offer resources, and inspire a sense of hope and inspiration.
We work alongside other youth peer support workers, counsellors and health care workers to provide resources, education, knowledge and coping strategies as they support their youth during their wellness journey.
What sort of experience do Family Peer Supporters have? What does it mean to have lived experience?
A person working as a Family Peer Supporter has lived experience through supporting their own youth in navigating a mental health and/or substance use journey.
We often can relate to others who 'are going through it' and can relate in a unique, non-judgmental way as we often know the challenges others can face while supporting their loved ones. We have experience with a journey ourselves and are aware of the ups and downs that can pose. We have a passion to support other families who can benefit from some tangible tools to provide non-clinical and strength-based support through our own lived experiences.
Through our lived experiences, we are inspired to support other families and caregivers who could use support and outlets to keep themselves well as they support their loved one(s).
Do Family Peer Supporters receive training outside of their own personal lived experience?
Yes, Family Peer Supporters have access to a comprehensive training that helps us provide compassionate care, knowledge, skills and tools to offer those we support. We receive extensive training through Foundry to support crisis situations, indigenous cultural safety training, trauma informed care and more.
Additionally, there are several organizations both provincially and nationally that are supporting the growth and access to peer support training as it is a growing segment to help met the urgent mental health needs of Canadians.
What advice do you have to other caregivers who are trying to support their youth?
I think more than anything, remembering that you are not alone when it comes to supporting loved ones who is struggling with their mental health or substance use concerns. It is easy to become frustrated, angry, exhausted, alone, or sad. Caregivers taking on stress is quite common and can lead to becoming vulnerable to changes in their health and wellbeing.
I know and understand the realities of constantly feeling overwhelmed, worried, feeling sad, losing sleep, becoming irritated, losing interest in things that I otherwise love and many of the residual effects of just wanting our loved ones to be the healthiest versions of themselves.  
Some strategies you can use to take care of yourself:
Accept support– this can be through support services like Foundry BC Virtual or your friends and family who can be an ear to listen to or someone to talk to.

 

Focus on what you can do, not what you can't – It's common to want to try and change your loved one and spend a lot of energy trying to do so, subsequently feeling guilty for not being able to 'do everything.' The best gift you can give your loved one is unconditional support; the best gift you can give yourself is the compassion that you are doing the best you can.

 

Set small and realistic goals – sometimes breaking down big things into smaller and obtainable goals can help make the big picture seem less daunting. What we want for our loved one and what they want do not always align, so it often takes some patience and planning to navigate the journey.

 

Join a support group – hearing from others who are going through similar experiences can provide validation, encouragement, and strategies for difficult situations. Consider joining our caregivers support group offered through Foundry BC Virtual.


 
As a family peer supporter with Foundry Virtual BC, I encourage you to reach out and book an appointment to talk. We have a talented team with diverse lived experiences both personally and through supporting our loved ones. We are here to listen, with nothing but compassion and care.  
To register for a caregivers account, make an appointment or join a group, download the Foundry BC app or access the web portal on our website. You can also email online@foundrybc.ca or phone 1-833-308-6379 if you do not have access to internet.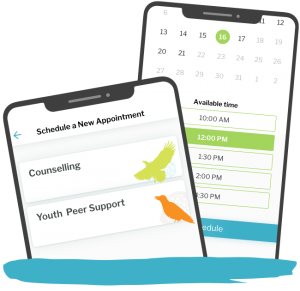 Young people aged 12-24 and their caregivers can drop-in or schedule a virtual counselling appointment, find peer support, access primary care, get support with employment, access groups & workshops, or browse our library of tools and resources.
Download the App
Access in a browser