Groups currently available:
Two- Spirit Peer Healing Circle
Led by peers, for peers, we are excited to offer a new monthly Two-Spirit Healing Circle beginning March 1st from 6:00-7:30pm. This group will run on an ongoing drop-in basis, monthly. We are honored to have Elder Bon Fabian facilitate this group alongside Foundry BC Virtual's Indigenous Navigation and Wellness provider, Raymond Johnson-Brown. Each month the group will come together to share stories, provide emotional support, explore resources and build a community together for two spirit identities. 
The first Tuesday of each month: March 1, April 5, May 3, June 7, July 5.
6:00pm-7:30pm
Register now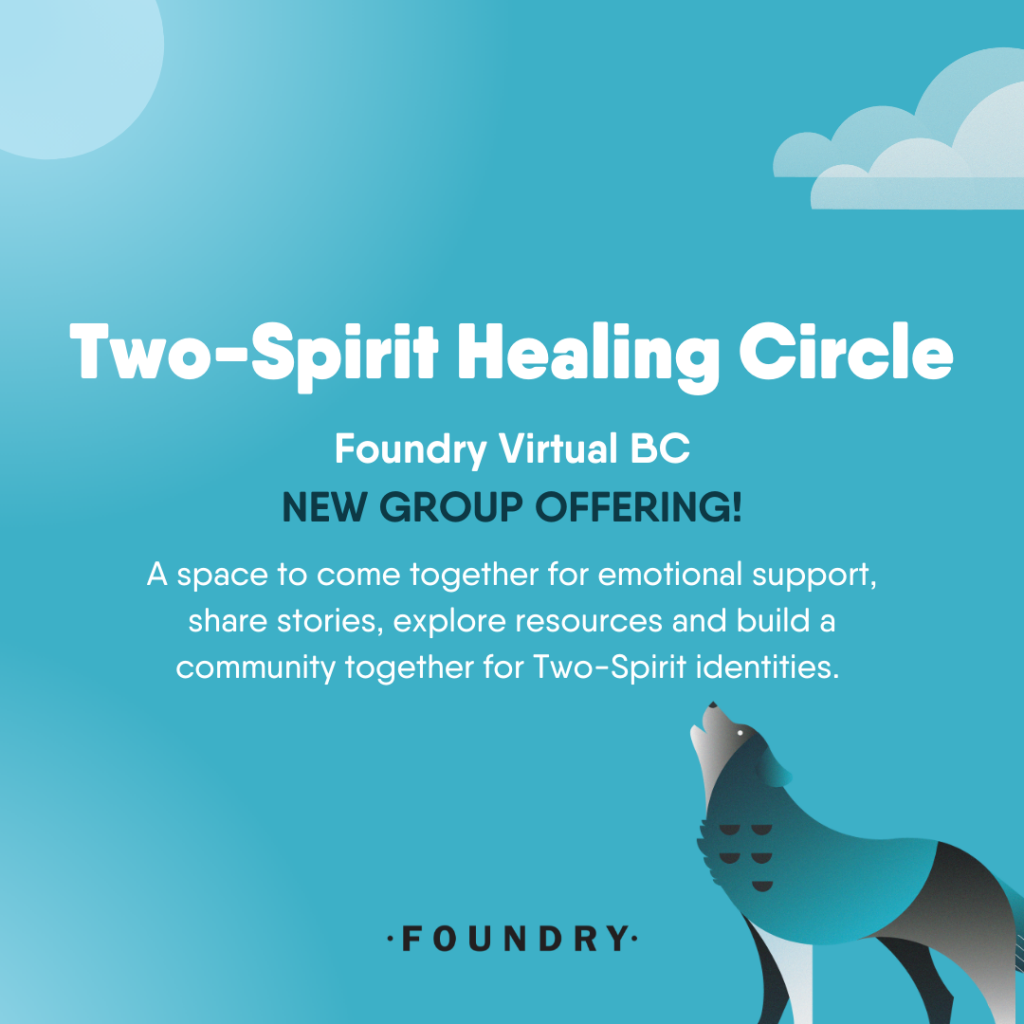 Foundry Virtual BC Q&A
Do you want to learn more about Foundry? Have questions about Foundry's virtual services? Join our monthly Q&A session, where virtual care peer supporters will answer any questions you have?
Register Now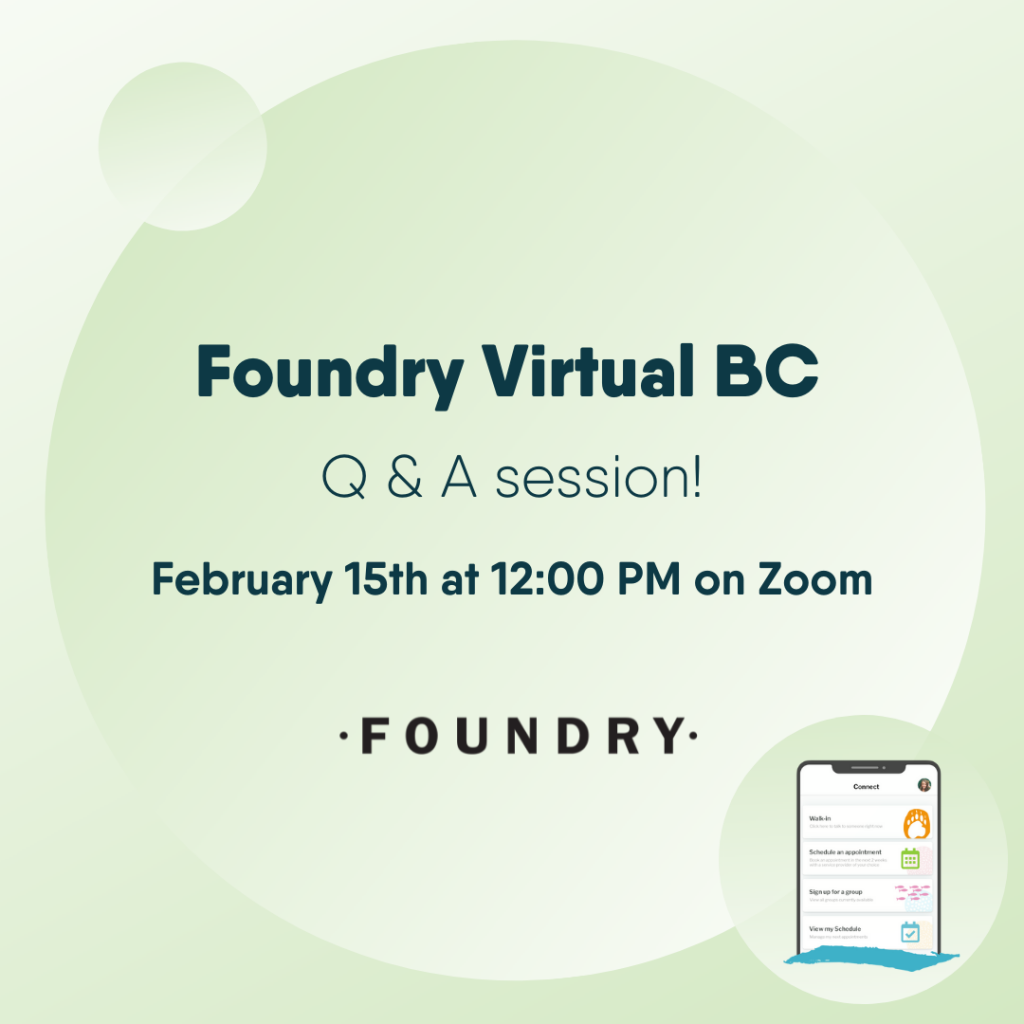 Queer Cafe
Queer Cafe invites Young people ages 14-19 who identify as LGBTQ2IA+ (Lesbian, Gay, Bisexual, Transgender, Queer/Questioning, Two-Spirit, Intersex, Asexual/Aromantic/Agender, or another gender or sexual orientation minority) to meet over Zoom for activities and conversation in a supportive, inclusive environment. The Queer Café is facilitated by youth peer supporters from Foundry Virtual who identify as LGBTQ2IA+ and features a mix of activities, discussion, games, workshops, and more!
Details:
This group is available WEDNESDAYS, weekly, on a drop-in basis!
Time: 6:30pm-8:30pm
The first group begins Wednesday January 19th.
Register Now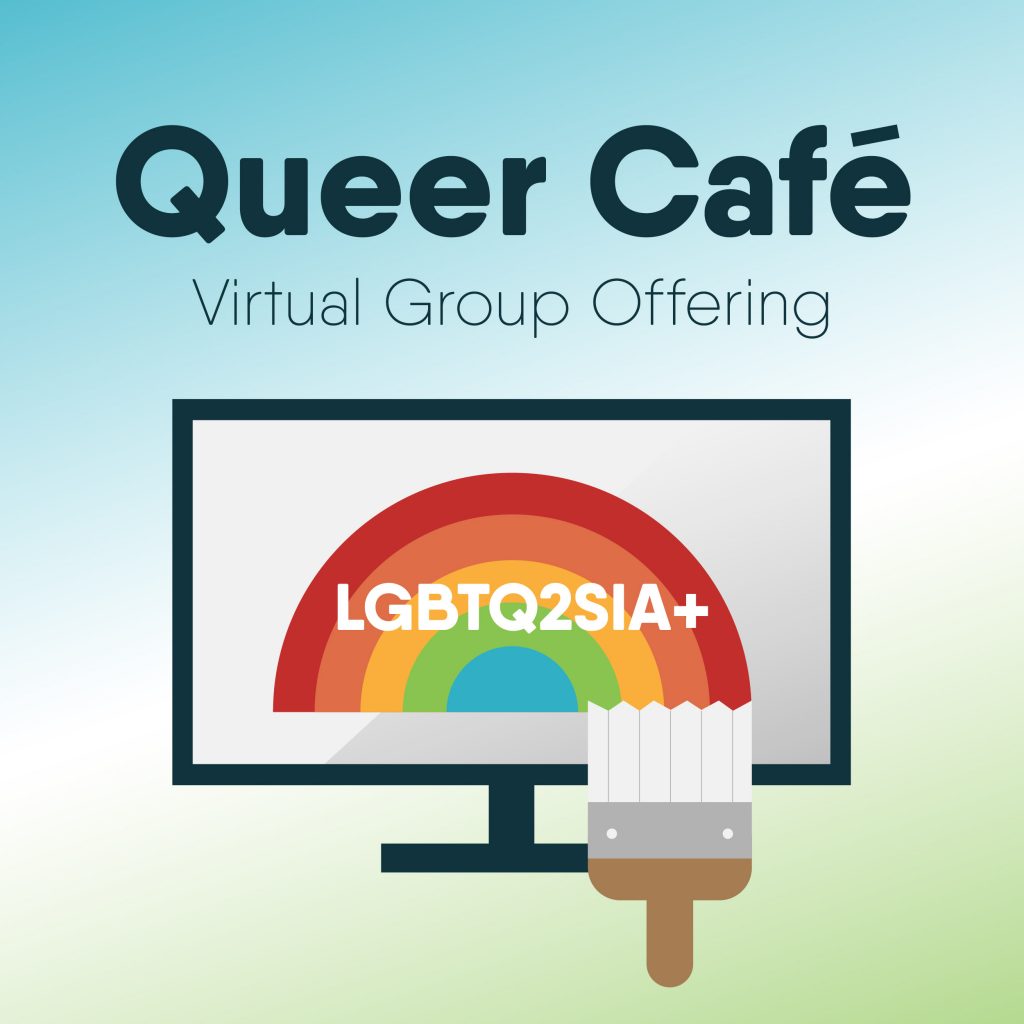 Learn more about Queer Cafe
add
Who is the Queer Café for? 
Anyone in BC between the ages of 12 and 24 who identifies as a member of the LGBTQ2IA+ community is welcome to attend, including but not limited to people who identify as gay, lesbian, bisexual, pansexual, transgender, Two-Spirit, queer, non-binary, asexual, aromantic, agender, genderqueer, genderfluid, intersex, or questioning. You don't need to have used Foundry services before, and you don't need a referral from a professional.   
When and where is the Queer Café? 
The Queer Café is held over Zoom and takes place Wednesday evening from 6:30-8:00pm. The facilitators will be available for half an hour after the Queer Café if you would like to talk more about anything that came up during the session.
Who runs the Queer Café? 
The Queer Café is facilitated by a youth peer supporter who identifies as LGBTQ2IA+. A peer supporter is a trained support worker who has lived experience of the different types of issues they help others with, like mental health or substance use challenges. A youth peer supporter is a peer supporter who is close to your own age (between the ages of 20-30.)
What activities does the Queer Café involve? 
The Queer Café features a wide variety of different activities, and you can choose which sessions you're interested in attending. Every session includes time for introductions, going over guidelines for the group, and talking about how we are all doing. You never have to share anything you don't want to and can participate as little or as much as you would like in conversations and activities.   
Some examples of activities the Queer Café might include are making art together, playing games, workshops on topics like sexual health, and presentations by LGBTQ2A+ artists. You can talk about anything at the Queer Café, not just LGBTQ2IA+ issues, but the facilitators may also lead discussions about topics specifically related to being LGBTQ2IA+, like relationships or coming out.  
How can I attend the Queer Café? 
You need to register for the Foundry BC app and then for the Queer Café before you are able to attend any sessions; however, once you are registered, you can attend as many or as few as you want (or none at all). 
How do I get news and updates about the Queer Café? 
To see what's happening at this week's Queer Café, or to check what's planned for upcoming sessions, follow us on Instagram, or email us at online@foundrybc.ca to be added to our email list.   
Do I have to use my legal name to sign up for the Queer Café? 
When you register, you'll be asked to give your first and last name as well as your birthday so that Foundry can keep track of how many people attend the Queer Café and what age demographic they belong to. You'll also be asked for contact information, like a phone number or email address. You'll have the option to provide a preferred name that's different from your legal name. You can also select your own display name on Zoom.  
Is the Queer Café confidential? 
The Queer Café facilitators are part of the Foundry team and will take notes after the group so that we can keep track of what services and activities young people are interested in or how the group could be improved. That information won't be shared with anyone outside of Foundry unless someone is in danger and needs immediate help or we're ordered by a court to share it. The Queer Café welcomes young people from all over BC who might have a range of experiences and privacy concerns to attend, so we ask that participants don't share personal information they hear during the group without permission.   
I'm worried about upsetting topics that might come up. Is the Queer Café safe? 
Participants are free to talk about anything at the Queer Café, but the facilitators will do their best to ensure that everyone in the group feels comfortable with any topics that come up and pause the conversation if needed. We ask that participants check in with the rest of the group before sharing something that could be triggering (meaning it could be emotionally distressing for others in the group). The facilitators will also work with the group to create a community agreement beforehand to make sure everyone feels safe during the Queer Café. If you need additional support during or after the Queer Café, one of the facilitators can check in with you individually.   
Can I leave the Queer Café? 
Yes, you can leave the Queer Café at any time, for any reason. We encourage you to message the group facilitator before you leave.  If there are concerns about your safety, a Foundry worker will contact you afterwards to check in.   
I don't see my identity listed here/I'm not sure how I identify. Is the Queer Café right for me? 
The Queer Café strives to be as inclusive as possible, and while the facilitators may not be familiar with your unique identity and experiences, they are always open to learning more. You don't need to use any specific word for your identity or experiences to attend. The facilitators are happy to speak to you privately during or after the Queer Café if you have concerns about names, pronouns, or other language related to your identity, or would like additional support communicating your identity to the group.   
I'm experiencing a crisis right now and need immediate help. Is the Queer Café right for me? 
The Queer Café is an activity and discussion group and isn't meant to provide crisis support or intervention. If this is an emergency, consider contacting one of the following services, or call 911:   
I'm looking for one-on-one support from a counselor or peer supporter. Is the Queer Café right for me? 
Although Foundry also offers virtual counselling and one-on-one peer support for LGBTQ2IA+ youth, the Queer Café is intended as a social space. This means it is not well-suited to provide one-on-one support. If you would like to speak to someone individually, you can check out Foundry's other virtual services. 
I'm looking for group therapy/a clinical group. Is the Queer Café right for me? 
The Queer Café is a peer support group, not a clinical group. This means that we come together as peers for social support; however, we don't teach therapy techniques in this group and the facilitators are not professional counsellors. Foundry will be offering clinical groups online in the future. Check out Foundry's other virtual services. 
Past Group: A panel for PEDAW
January 31st 4:00-6:00 PM (with a 15-minute break in the middle)
Provincial Eating Disorder Awareness Week (PEDAW) is coming up February 1-7th, 2022. To kick-off the week, please join Foundry BC and Foundry Penticton for a virtual discussion led by 4 individuals with lived experience and a dietitian focusing on disordered eating, eating disorders, and body image struggles. This event is open to everyone ages 12-24 who is questioning their relationship with food, movement, or their body and/or identifies as having an eating disorder.
Register now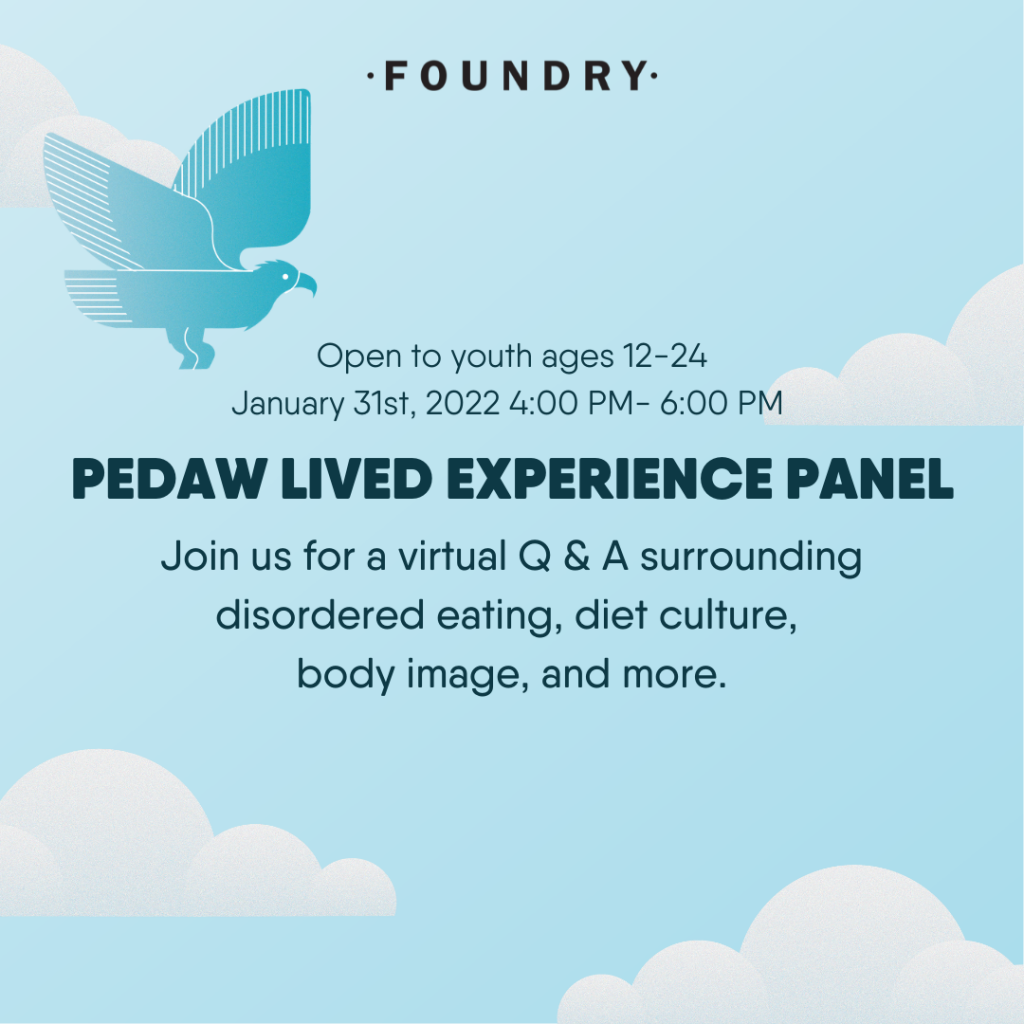 Past Group: A Night of Drag
Calling all B.C. youth ages 12 – 24! Join Foundry virtual and Foundry Penticton for a spectacular virtual night of drag performances. Join by chat, video, or audio through Zoom! Drag/costumes are optional – but encouraged! Please register at foundrybc.ca/virtual/youth-groups or email Bronwyn at blawrence@foundrybc.ca with any questions.
Register Now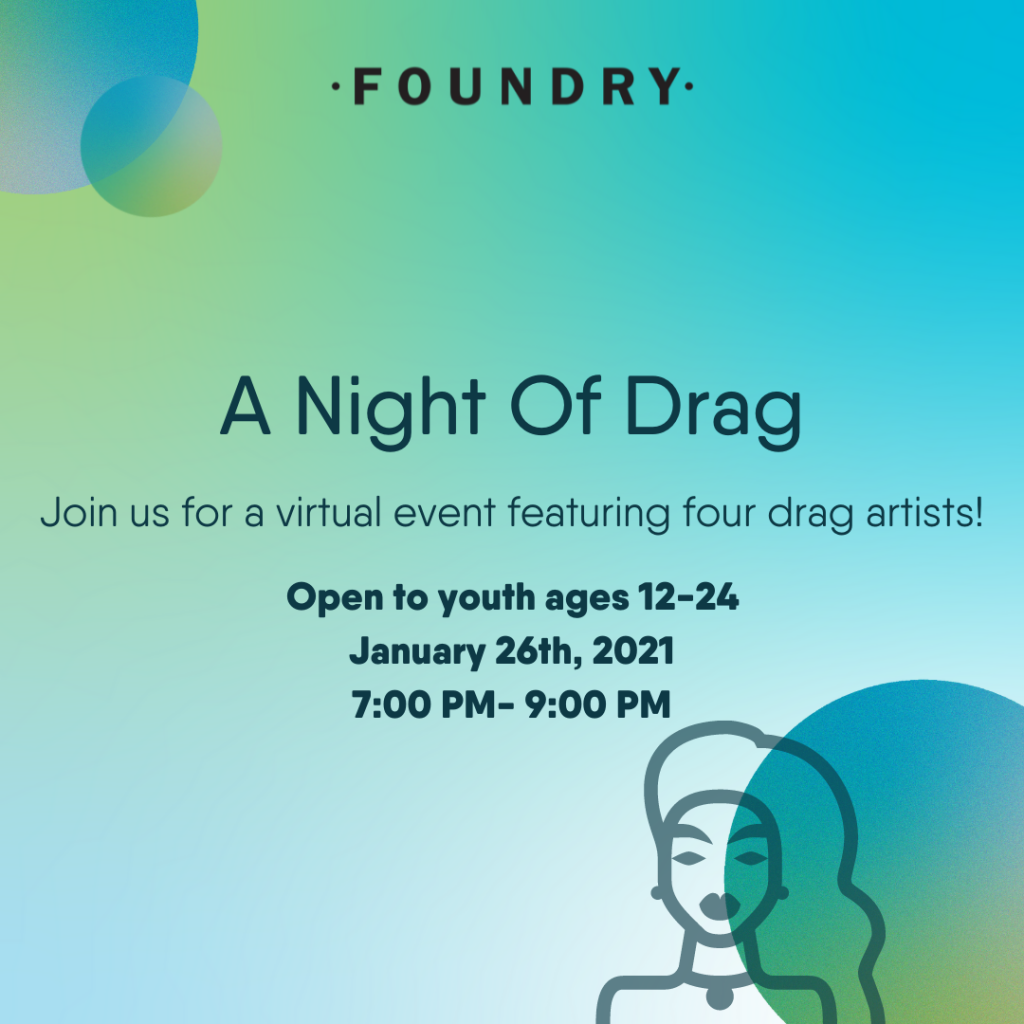 ON HOLD: UNYA'S 2- SPIRIT COLLECTIVE X FOUNDRY GROUP
This virtual group offered by UNYA's 2- Spirit Collective (Urban Native Youth Association) and Foundry Virtual BC. This group is for any and all identifying LGBTQ2A+ youth ages 12-24 residing in BC, who are looking to connect virtually with others in a safe, online, environment.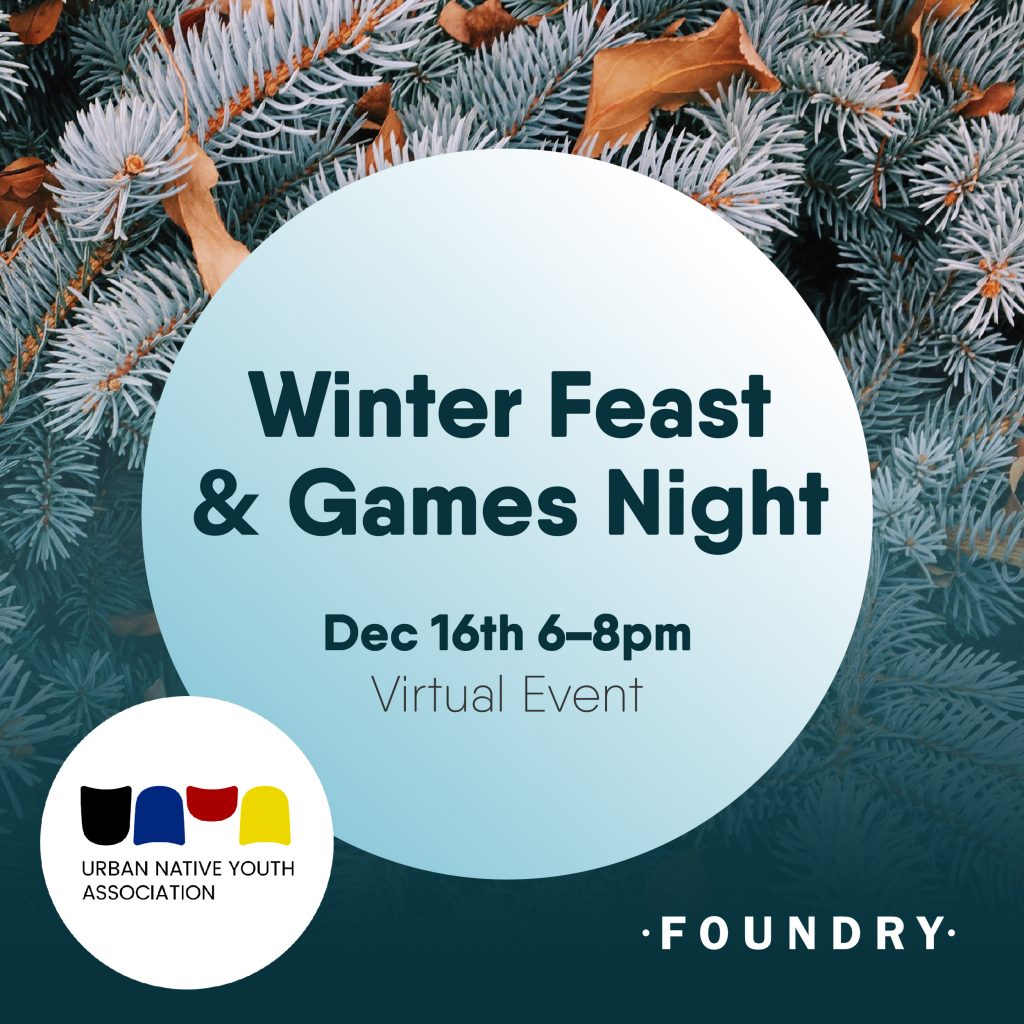 Past Group: Beauty of Life in Psychosis
Beauty of Life In Psychosis (BLIP) is a six-session art and creativity group for young people who self-identify as experiencing psychosis and/or voices, visions and unique beliefs. Sessions will be held over Zoom, and will involve guided creative exercises as well as time to talk, share, and work on your own creative projects. After the group is completed, participants will also have the option to have their work exhibited online. Gift cards to purchase art supplies will be provided!
BLIP is open to young people ages 12-24 who live anywhere in BC, and we'll be running the group multiple times. To register, click the button below. After you complete the registration form, one of the group facilitators will contact you to follow up.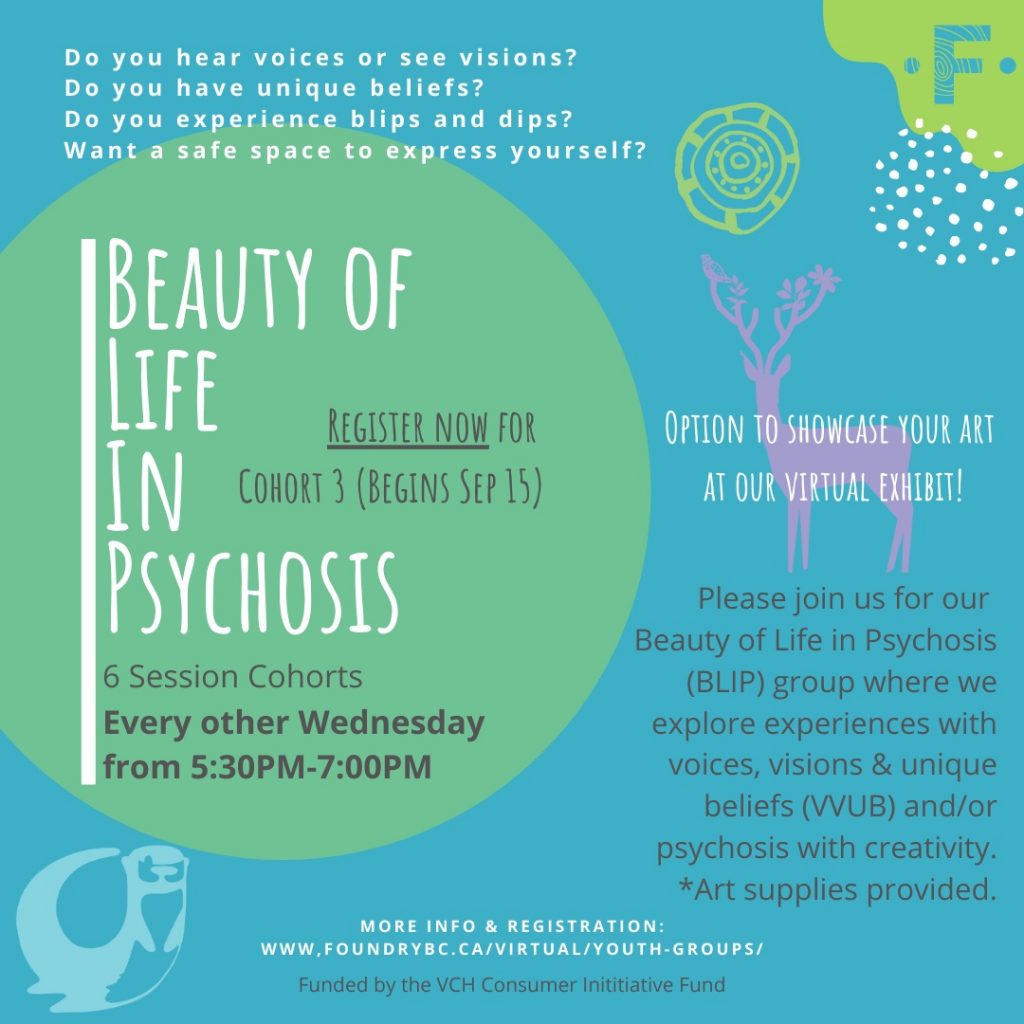 Learn more about BLIP
The BLIP youth group was born out of the idea that people who experience psychosis, hear voices, see visions, and/or have unique beliefs need a safe(r) space to socialize, get creative, and express ourselves. Our goal is to encourage participants to find beauty, hope, and community within or around these experiences. With support from Foundry Virtual BC and Vancouver Coastal Health's Consumer Initiative Fund, that idea became a reality. Using these funds, we were able to collaborate with Paint Spot and provide free art supplies for everyone in the group.  
Learn more about BLIP and view some of the artwork created with the first cohort of the BLIP youth group by reading the blog post, Discovering Beauty of Life in Psychosis.
Past Group: YMind - Youth Mindfulness Group
If anxiety is impacting your life and preventing you from doing what you want or need to do, this group is for you. YMind is a free seven-week program for youth delivered across BC. YMind people ages 18- 24 who are experiencing symptoms of anxiety to learn and practice evidence-based strategies to increase coping. This group is led by trained mental health professionals and gives young adults the chance to connect with others who are experiencing similar thoughts and feelings.
This group is now full. To learn more about future offerings of this group or get on the waitlist for the next cohort, please email online@foundrybc.ca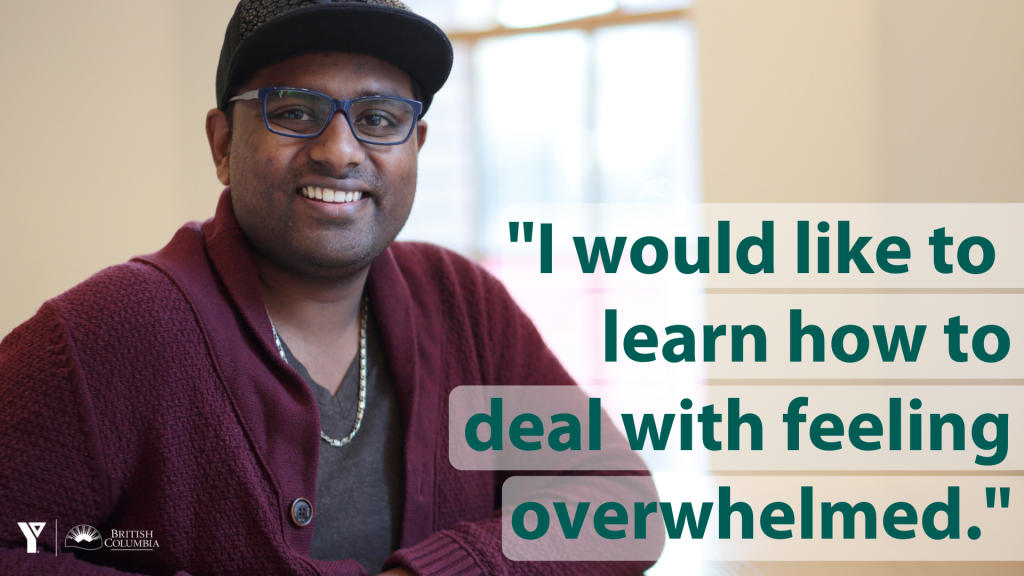 Past Group: Body Image 101
How much time do you spend thinking about your body? Or trying to change it? We hear the term "body image" a lot and receive many messages about our bodies…how it looks, how it functions, how it compares to others, etc. This can leave us feeling confused or even unhappy about our body. In this group, we will talk about what body image actually is, what impacts it, and tools to support you and your relationship with your body.
WHO: Youth ages 18-24
WHEN: Tuesdays 6-7pm - September 14th, 21st, 28th, and October 5th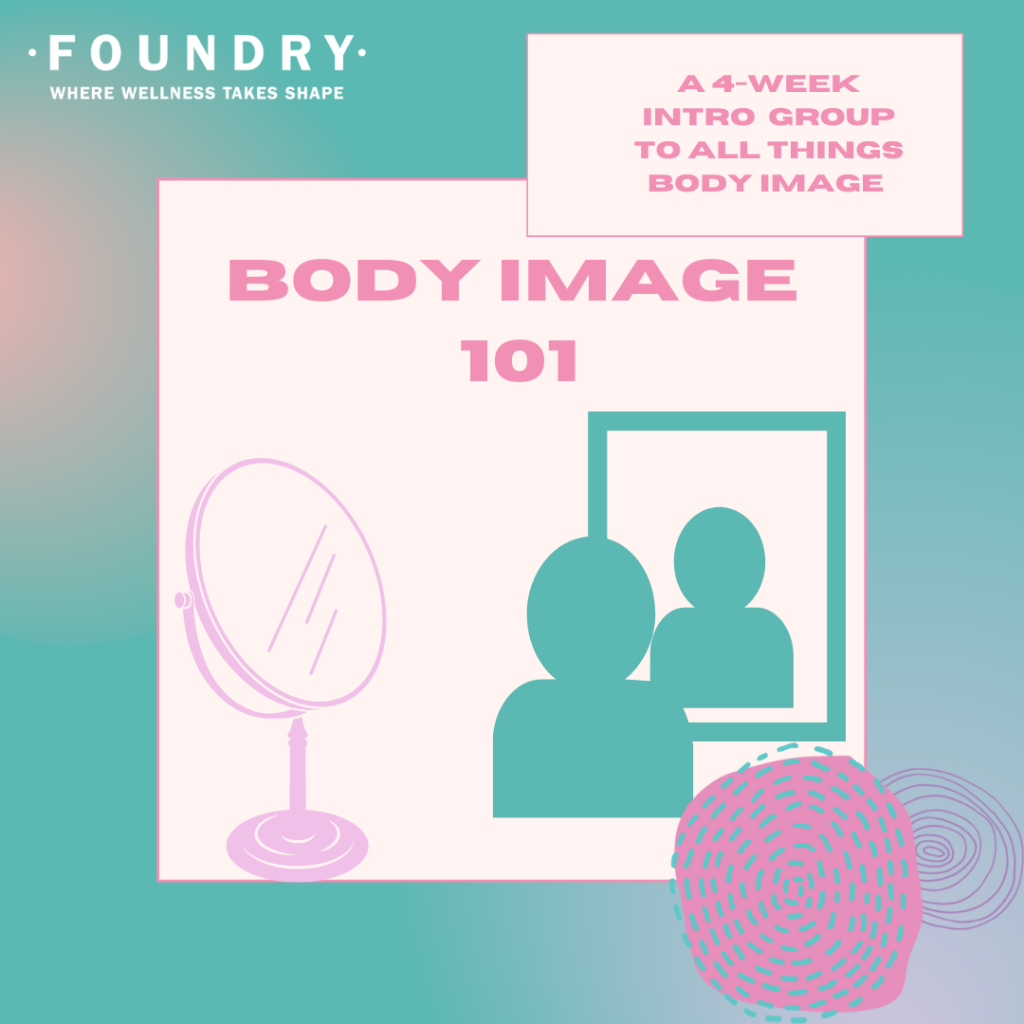 Past Group: Mind Me
Mind Me aims to support youth ages 14-17 who are dealing with low mood, or a low-to-moderate level of anxiety. Participants get to learn more about anxiety and depression, while understanding the impact of emotions and thoughts on our well-being.
This group is now full, please email online@foundrybc.ca to get on the waitlist.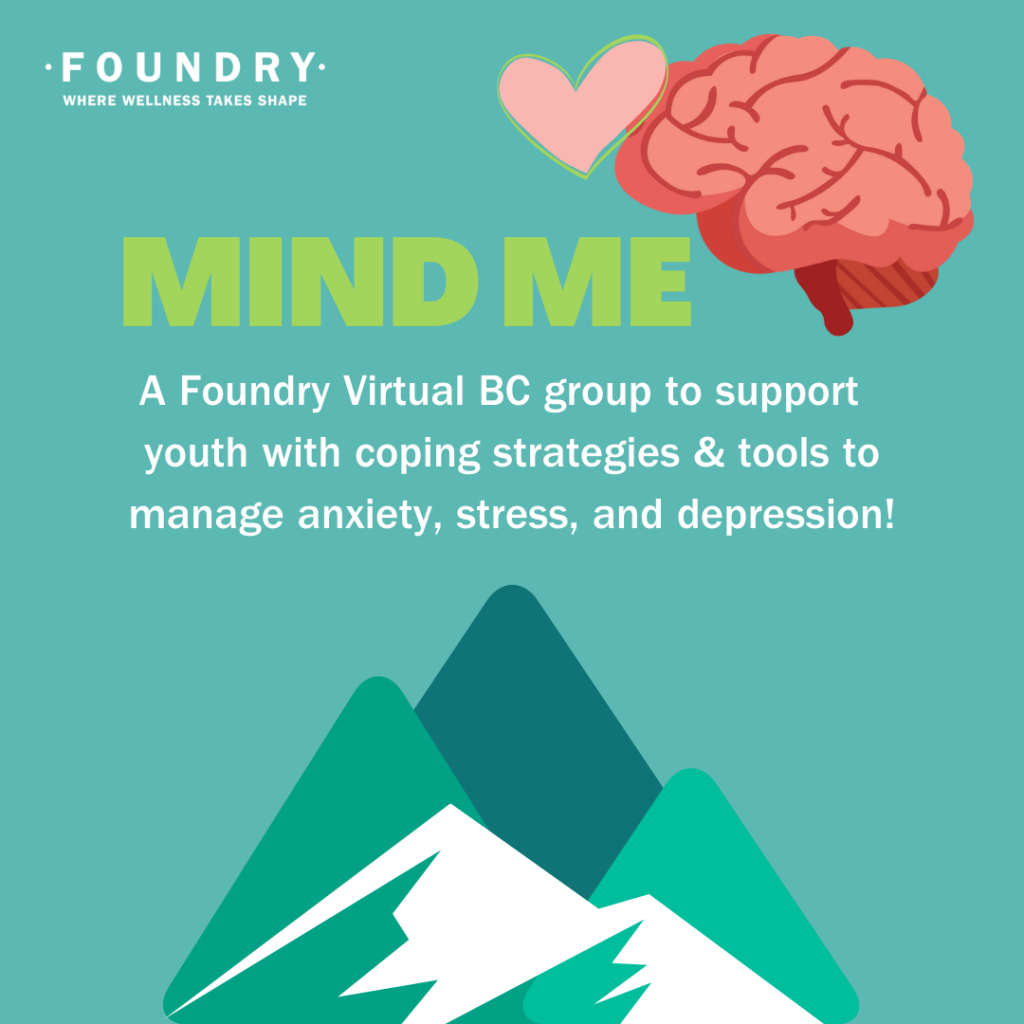 Past Group: Conversations On Substance Use During COVID-19
It's completed, and videos will be available soon