A group of twelve parents living in Victoria, British Columbia came together to create a Parent Handbook. These parents all have one thing in common: they parent a young person who has a substance use disorder.  
What is this handbook about?
This handbook is a collection of shared experiences and stories to help other parents and caregivers find refuge, support and courage to reach out for help. Whether your young person is experimenting with substances or has developed a substance use disorder, this handbook may help you feel connected with other parents and caregivers going through similar experiences. This journey is a marathon, not a sprint, and knowing that there are others who understand what you are going through can be a lifesaver. 
The Improving Treatment Together (ITT) Project
This Parent Handbook was developed as part of the Improving Treatment Together (ITT) Project, which aims to improve the experiences and outcomes of community-based services for young people who use opioids, their families, and service providers, using co-design methods. Nine stakeholder specific workshops were held in four partnering communities (Kelowna, Prince George, Vancouver, Victoria), where participants explored their experiences and defined specific needs for improving opioid treatment services. They then brainstormed and prototyped solutions to address these needs. Three of these prototyped interventions were chosen for development and co-designed with relevant stakeholder groups, including the parent handbook.
This project is co-led by the Canadian Centre on Substance Use and Addiction (CCSA), Foundry Central Office, and Foundry Victoria, in addition to three community partners who are developing their own community-specific resources.
Click the image to read Parents like us. The unofficial survival guide to parenting a young person with a substance use disorder.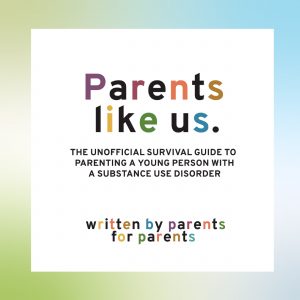 Parents and caregivers have put their heart and soul into this handbook. Take 5-minutes to give us your feedback so we can understand the handbook's impact and continue to advocate for these types of resources. Click here to complete the survey. This survey will remain open until March 31, 2022. 
For more information about the ITT project, contact: 
Keywords: Foundry BC, foundry, Victoria BC, Victoria, parents like us, guide, parent handbook, substance use disorder, ITT, improving treatment together, parents, caregivers, Foundry Victoria, Canadian Centre on Substance Use and Addiction, CCSA