Vancouver-Granville
Foundry Vancouver-Granville offers young people 12-24 access to mental health and substance use support, primary care, peer support and social services.
keyboard_arrow_down
Donate Now
Centre Hours
Monday - Friday 9:00 am - 5:00 pm. Closed on statuary holidays.
Walk-in counselling
Tuesday and Thursday 1:00 pm - 4:30 pm
Wednesday 1:00 pm - 4:00 pm
Primary Care drop-in
Monday - Friday 1:00 pm - 4:30 pm
We strongly encourage calling in advance to ensure availability..
Appointments
Please call 604-806-9415 if you would like to book an appointment with a health care provider.
Services Available
From counselors to doctors, from occupational therapists to income assistance specialists, the skill and diversity of our team is the key to the centre's success. Each team member uses their expertise and talents to connect a young person with the care, community resources, and fun activities they need to lead a healthy, fulfilling life.
Download the Inner City Youth program referral form.
Primary Care - Physical Health
add
Primary care services are offered in person and virtually.  Youth can see a nurse, nurse practitioner or doctor with regard to physical health, sexual health, and opiate use disorders.
Mental Health & Substance Use
add
Walk in counselling is available Tuesday, Wednesday, and Thursday.
We offer a range of drop-in psychosocial rehabilitation (PSR) groups weekly and monthly.  PSR programming supports youth to develop life skills, connect with their peers, have fun in their community and manage challenges related to mental health and substance use.
Foundry Works and Education Program is a supported employment and education program for youth who are interested in working, going to school, or completing a training program. Foundry Works helps youth to build the skills and experiences they need to achieve their goals. This program is available to BC youth between the ages of 15-24 years old, who are not currently employed or enrolled in any other employment program. Click here to learn more.
Intensive Case Management (ICM) is by referral only.  Our ICM team accepts referrals for young people (age 18-24) requiring more intensive and specialized mental health and substance use support. All young people receiving ICM services are connected with a case manager and psychiatrist specializing in youth/young adult mental health and substance use. Download a copy of the Foundry Vancouver-Granville referral form.
Social Services
add
A Community Integration Specialist (Ministry of Social Development and Poverty Reduction) is onsite every Thursday afternoon to support youth with providing support related to income assistance and persons with disabilities funding.  Please call our centre to find out when our Community Integration Specialist is available or to book an appointment.
Peer Support
add
Peer support workers offer the perspective of lived experience with mental health and/or substance use challenges to connect with young people.  For inquiries related to peer support, please contact our centre.
Foundry Events Calendar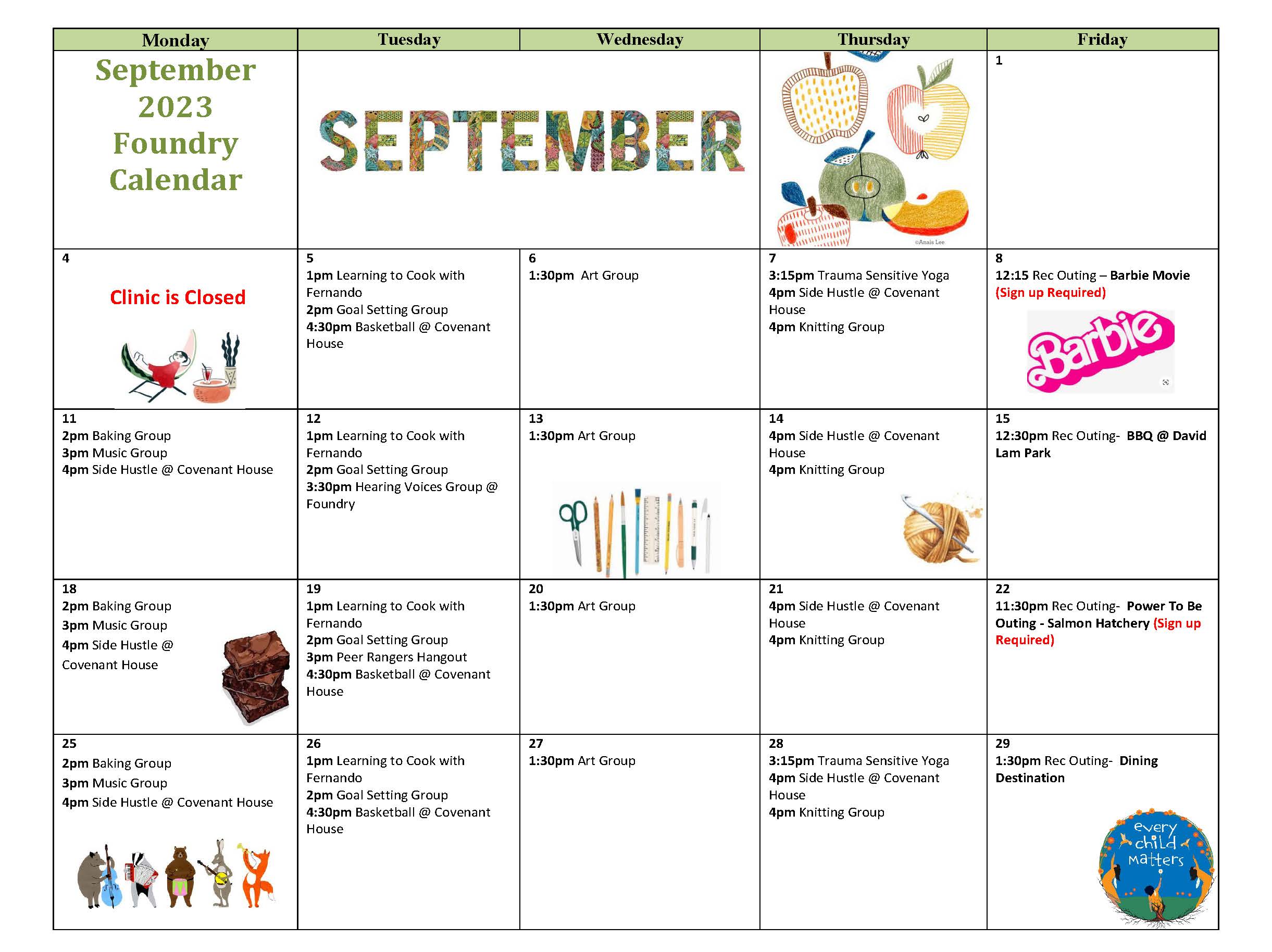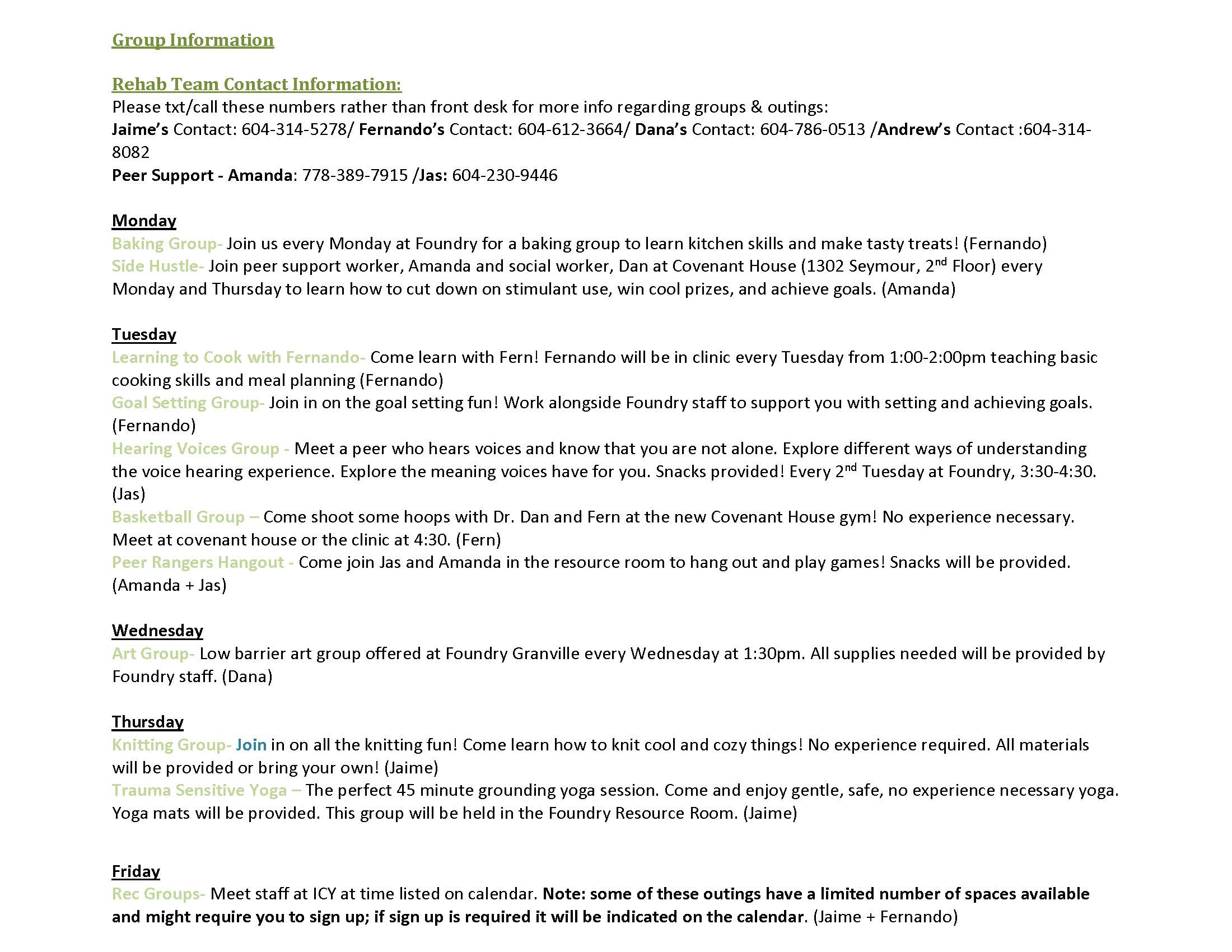 Our History
Established in 2015 as the Granville Youth Health Centre, this site inspired the creation of Foundry. Learn more about our history.
Partnerships
Hosted by the Providence Healthcare, Foundry Vancouver-Granville unites partner organizations to address the health and wellness needs of young people aged 12 to 24 and their families.
Student Practicums and Internship Inquiries
Foundry Vancouver-Granville currently provides practicum and internship opportunities for nurses, masters of social work, occupational therapists, psychology and medical students, and clinical counsellors.  If you are interested, please ask your school advisor to apply through HSPNet.