Richmond
Our temporary Foundry Richmond location aims to provide a welcoming, inclusive, and accessible space for young people 12-24 and their families to find support for their wellness needs. Give us a call or stop by if you're interested in seeing a counsellor, or want to schedule a sexual health appointment.
keyboard_arrow_down
Service Hours
Call to book an appointment for sexual health services and counselling appointments
Monday to Friday
9:00am-4:30pm
Sexual Health Clinic
Monday and Wednesday
2:30pm-6:00pm
Counselling Services
Monday to Thursday
8:30am-5:30pm
Foundry Richmond offers Youth and Caregiver Counselling in addition to other services at the centre.
Our free Youth and Caregiver Counselling is easily accessible with no referrals, and no long term commitment – just call us! In each counselling session our counsellors work collaboratively with youth or their caregivers on what is most important to them. Here are some of their thoughts:
As a youth and caregiver counsellor, my role is to get to know you, understand you and be a support for you. I do my best to listen without judgement and to understand where you are coming from. Through a process of us working together I hope you leave the session with something helpful and worthwhile for you, and perhaps feeling lighter and brighter.
Counselling empowers people to lead healthy and fulfilling lives. It allows individuals the opportunity to feel heard and understood in a safe and supportive environment. I want to encourage, instill hope, and inspire youth to be all that they are capable of being.
As a youth and caregiver counsellor I'm here to listen without judgement and work with you to meet the challenges in your life. I want youth to feel good about who they are, the life they're living, and to support that process in any way that I can.
chevron_left
chevron_right
About Our Programs
Sexual Health Services:
Provides free, confidential information and education regarding sexuality and health to young people ages 12 to 24. Services include birth control, emergency contraception, pregnancy testing and information, as well as testing and treatment for sexually transmitted infections (STIs). Appointments may be booked in advance in-person or by telephone, except for emergency contraception (Plan B), which will continue to be offered on a daily basis.  Just call to book a time for your same day appointment! Please note we only provide Plan B directly to the individual in need.
Youth and Caregiver Counselling:
We are excited to offer free confidential counselling appointments! Appointments may be booked in-person or by telephone.
Our youth and caregiver counselling services are here to support you with whatever is on your mind today, one session at a time. After a session, you and your counsellor will decide on the next steps to your care. You are welcome to use this service more than once, but we cannot guarantee you will have the same counsellor every time. Counselling is also available to caregivers of youth who are between the ages of 12 to 24. We are happy to help you find on-going therapy, psychiatry, or other services to fit your needs.
Youth Peer Support:
Youth Peer Support are young adults that bring their own experience with navigating the health and wellness systems within our community. Our Youth Peer Support are here to welcome you to Foundry and can provide information about the services that are offered.
Our Youth Peer Supporters are available to help support and connect young people to services within the community. Follow-up sessions can be made within a few days of your counselling appointment.
Family Peer Support:
Our Parent Peer Support Worker provides emotional support, system navigation, information and resources based on their own lived experience of parenting a youth with mental health and/or substance use challenges. Amy is a parent to two young adults, and has lived in Richmond for over 25 years. Amy was drawn to this work when she learned that sharing her own lived experience could help support other parents just like her to know that they are not alone and to recognize their own strength in supporting their children and youth who are struggling with their mental health. She is fluent in English, Mandarin, and Cantonese.
You may reach her at amy.tam@familysmart.ca or by phone at (604) 878 3400.
NEW – Foundry Works
Foundry Works is a new supported employment and education program for youth who are interested in working, going to school, or completing a training program. Foundry Works helps youth to build the skills and experiences they need to achieve their goals. This program is available to BC youth between the ages of 15-24 years old, who are not currently employed or enrolled in any other employment program. Click here to learn more.
If you are a young person interested in participating or an employer/business who is interested in getting involved, please call our centre to discuss our services or send an email to FoundryWorksRichmond@vch.ca.
Access to Mental Health and Substance Use Supports:
Mental health intake clinicians are available for assessment and treatment matching to mental health and substance use services in Richmond.
Foundry Richmond does not provide emergency or crisis services. If you or someone you know is experiencing a mental health crisis or a medical emergency, please call one of the below numbers, or go to the nearest ER.
• Call emergency services – 911
• Call the crisis line at 1-800-784-2433
• You can call the Chimo crisis line at 604-279-0202
• OR click here to connect to Chimo's NEW live chat line

In addition to Foundry Richmond services, Foundry BC is now offering free and confidential virtual drop-in counselling sessions by voice, video and chat to BC young people ages 12-24 and their caregivers.
Youth can call 1-833-FØUNDRY (that's FØUNDRY with a zero! or 1-833-308-6379) to book an appointment and learn at foundrybc.ca/virtual
Health and Safety
The safety, health and well-being of our young people and their families, staff and our community partners is our top priority. Foundry Richmond is aligned with BC Centre for Disease Control's recommendations.
Resources available regarding COVID-19
If you are looking for non-medical information about COVID-19 – you can call 1 888 COVID19 seven days a week, from 7:30 a.m. to 8 p.m. Information is available in more than 110 languages.
BC COVID-19 Self-Assessment Tool  was created by the BC Ministry of Health to help determine whether you may need further assessment or testing for COVID-19. You can complete this assessment for yourself, or on behalf of someone else, if they are unable to.
Visit vch.ca/covid19 for the latest information, resources, and support.
Get Involved 
We continue to search for a permanent home for Foundry Richmond. Get involved by connecting with us on social media, attending an engagement session, and staying tuned for updates.
*Currently we are not accepting practicum students at this time*
For more information, email: FoundryRichmond@vch.ca 
Partnerships
Foundry Richmond brings together partner organizations across the community to work together to address the health and wellness needs of young people aged 12 to 24 and their families.
Strong People Seek Support
An Animation Collaboration with Foundry Richmond
Members of Richmond's youth advisory council, the Foundry Youth Advocates (FYA), were invited to collaborate with Foundry Central to produce a series of videos raising awareness about Foundry's services. Visit the landing page to see the videos and for more information and background on the project.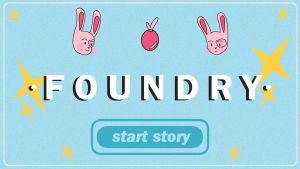 Gabby's Story
Gabby's story was shared with attendees at the Richmond Hospital Foundation Starlight Gala on October 27, 2018.
Her story was the inspiration for our "Leadership Challenge" benefiting Foundry Richmond, a new centre providing services including primary care, public health, mental health and substance use services, as well as social services all under one roof for the first time in Richmond.
chevron_left
chevron_right