YRAP Interview with Dr. Marchand
Written by: Jeanna Pillainayagam, member of Foundry's Provincial Youth Advisory Committee 
 In May 2021, I had the opportunity to interview two researchers who had met with the Youth Research Advisory Panel (YRAP) to gain feedback on their research grant proposals. I wanted to see what the experience of working with the YRAP was like for them, as well as gain some insight into their perspectives on the importance of collaborating with youth in research. Below are some snippets of my conversation with Dr. Kirsten Marchand. 
*Please note that I have lightly edited Dr. Marchand's responses for the sake of clarity.  
Jeanna: How did you hear about the YRAP? 
Dr. Marchand: At the end of October, I started a postdoctoral research fellowship position at Foundry, [which is] jointly sponsored also by UBC. … Within the first month of getting myself oriented, I got the chance to hear through our regular research team meetings about the YRAP … and just thought, 'What an incredible idea!" All of my research in the past has been with populations that … some people would define as 'underserved' or 'marginalized'. I use the air quotes, those are not my words. I've always been worried as a researcher and curious about how we can find more ways to involve people whose lives we're studying and trying to support and help. And to try to find ways to better involve them in the research process. I stand behind the idea that obviously that can lead to a better final product, [which would be] a proposal to identify research questions that are more relevant and important to [the] people whose lives we're trying to improve upon or to support. …  
Jeanna: What made you want to approach the YRAP for feedback on your grant proposal?  
Dr. Marchand: So there's a couple of things. First … it aligns with my values as a researcher. And I'm in this stage now where as a postdoc, I am making the transition between being a student and focusing a lot on understanding the methods and the data, and all that stuff that you learn as a PhD student, to now making that jump towards becoming an independent research scientist. And so it really just aligns with my values and this was a great opportunity for me to have the chance to actually do work that is informed by or supported by conversations with young people. The other major reason for me is that all of my work previously has been with adult populations, and so I felt like this would be a … miniscule opportunity to ensure that … the way I was writing or the way I was thinking about these problems wasn't just coming from the literature, but also that I had an opportunity to talk about it a little bit with a group of young people. Now I don't think that my work stops there by any means … hopefully if this work gets funded, [it] will be an ongoing process where I'll get to engage more with young people and have young people working alongside me so I can learn and do really good research. …  
Jeanna: What were some of your key learnings from your experience working with the YRAP? 
Dr. Marchand: I think one of the key learnings that I really took away was to not underestimate the complexity [and] the sensitivity of the topics that I've been working on … [T]here were some comments made [by the YRAP about] intersections with gender identity and gender roles … that of course I had thought a little bit about, but not at all I think to the level of complexity that it should have been given. So that was a really important takeaway. As well … a lot of the comments were around some of the inclusion criteria and the procedures that … I didn't have a ton of space [to write about], so I only had like a page really to write about that stuff [in the grant proposal]. But [there were] a lot of comments as well around recruitment and just to challenge me, I think, in my thinking around traditional research approaches and how they can be very hierarchical and top-down, and how that can actually potentially hinder my ability to reach people who I obviously really want to be able to reach. So I think it was just challenging me to [think a bit more] outside the traditional structures of the university system and academic research, to be a bit more creative. And then just to be [thinking a bit more] completely through the complexity of the questions I want to ask. Which is all, again, at that stage of [the proposal] development, really crucial. But to me that's going to require more than one meeting, and hopefully longer-term investment … those would be the two takeaways from the meeting. And then again, I think just in terms of my values, it just solidified why it's so important I think for me to have those opportunities now and in the future to be able to work closely with the people that I'm trying to do research with and for.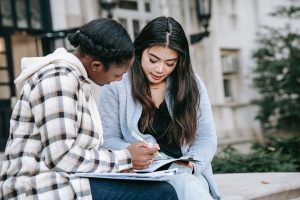 Jeanna: Do you think there's a growing desire among researchers in your field to have more youth input in their research? 
Dr. Marchand: I can't say youth input specifically because this is [a] newish [area] for me now. But … I can say that at least in my work with people who are using substances and experiencing mental health challenges or needs, that there's definitely a growing movement to encourage researchers from the very beginning to co-design research with people with lived and living experience. And that to me is just an ethical imperative. We're studying topics that are incredibly sensitive and complicated and require great care in order for the project to be meaningful, for it to be sensitive, for it to do well, and then also for it to actually land and have some impact. And I think that another area for me is that I've been frustrated by the fact that we often do research on these topics, and then we just publish the paper, and move on. And it doesn't lead to any real success aside from [helping] the researcher's curriculum vitae grow[ ]. So [researchers] get more publications and [researchers] get more success out of it, but especially during research in healthcare on complex topics like opioid use disorder, it is so important I think to involve those stakeholders from the very beginning so that we can then have more of an impactful study that hopefully leads to some kind of systems-related change. …   
Jeanna: What would you say are some of the challenges of incorporating youth feedback into research?  
Dr. Marchand: [F]or this application [when] I met with the YRAP, that was for [a specific grant], and for fellowship applications. So they didn't have a devoted section for knowledge translation, or integrated knowledge translation, or how [the researcher will be] working with young people. They didn't have a section for that, so then I was stuck to sort of choose what to include and what I could fit. So that root problem comes down to the funder, and if they want us to be doing research that is more engaged research, then they need to create more spaces within our actual applications to speak to how we are doing that, … And give the researchers also more time to do that kind of research, because it takes more time to get together to meet and to account for different perspectives and all of that stuff. And so I would say the root of that challenge comes to the funder, and [on] the flip side, I just recently applied to [another specific grant] with the same application that I met with the YRAP about, but they had more space to actually spell out some of those things. So I was able to then take into account more of the procedures that were suggested from the panel when I met with everybody around different forms of recruitment and engagement, and stuff like that. …  
Jeanna: From your viewpoint, what would you say is the significance of a panel like this?  
Dr. Marchand: I feel like so many things, to be honest. So I'm not sure if I'm going to be able to pinpoint it to one thing. I think it just makes you a better researcher. That's like a super silly-sounding, idealistic way of saying it. But I just think it makes you more accountable, it makes sure that you're asking questions that make sense to the people that you are eventually going to be asking those questions to. It brings us more together in our world views, in our ways of seeing a problem. And I use that word, "problem", as in, I'm thinking [of] health systems or like big social problems that we're facing these days. So it makes you just think about it in a way that makes sense to everybody, not just from your office, university, and campus, … So I think it just makes you a better researcher. It means you're going to ask questions, you're going to be thinking it through in a different way. More complex problems require very complex ideas and solutions, and so we want to have as many diverse perspectives at the table, in my opinion, to make a project successful, and to hopefully lead to some kind of change. … [B]ut then I also see that there's probably, or hopefully, some benefits to young people and to families who might be able to be engaged in this as well. So getting the chances to have your voices heard, and from the very beginning, and maybe hopefully learning some new skills along the way. …  
Jeanna: Do you see this type of panel being adopted in other fields of research, or even other parts of the world? Do you see this kind of model being replicated? 
Dr. Marchand: I think it could be, for sure. It seems to me, from my very naive one-time visit, especially now in this new world where we're so accustomed to working virtually, why could it not? Maybe the better question is what are the stop gaps? … there needs to be a bit of resources and funding to back it up, and that's where … it needs to come down to the funders. …  
[T]he whole system is set up in a way that it feels like it values this ivory tower research. Like doing research in silos, doing research alone, and it values that researchers get publications. The whole system is set up in this way that it's around the research scientist, and it's not around the community that we're trying to do research to inform solutions [for] better delivery of care to, … [B]ut that can't happen in silos, and it shouldn't be about a publication. It should be about policy change or a change in the quality of care.  
To me, it really does come down to the root problem being at the funder. So if funders would put in requirements around this and give researchers the room to do this kind of research, [through] time and resources, then I can't see what the problem would be. I think maybe the questions we need to be asking ourselves more is how can we not? And why are we not doing this? Why is this not a standard practice, [when] doing research on and about especially sensitive topics? So I feel like yeah, it could be replicated for sure.
About Jeanna Pillainayagam 
Jeanna Pillainayagam is currently a member of the Foundry Provincial Youth Advisory Committee, and was a member of the Youth Research Advisory Panel (YRAP). She also has volunteer experience with mental health organizations including CMHA-BC and Jack.org, and has previously worked on mental health projects with groups such as Anxiety Canada, the University of Northern British Columbia, and the BC School Counsellors Association. She is passionate about promoting mental health education and destigmatizing mental illness.
Jeanna believes the YRAP was an excellent opportunity for young people to advocate for the needs of youth in terms of creating accessible, adequate, and appropriate health/wellness services. She hopes to see more programs like the YRAP in the future. To read more articles written by Jeanna Pillainayagam click here.