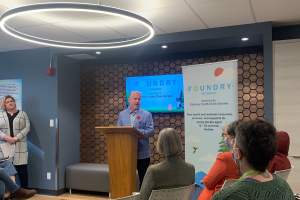 We're excited to announce that Foundry Victoria will formally open the doors to its new space on November 1st, 2023, located at 546 Yates Street in Downtown Victoria. The new Foundry Victoria space is nearly double the size of Foundry Victoria's previous location, which was located at 818 Douglas Street.
Foundry Victoria has seen an exponential increase in the number of young people ages 12-24 seeking wellness resources in Greater Victoria over the past year.  In 2022, Foundry Victoria saw a 22 percent increase in clients being served – 450 new youth accessed services bringing the centre to a total of 2,500 youth and families already using Foundry services.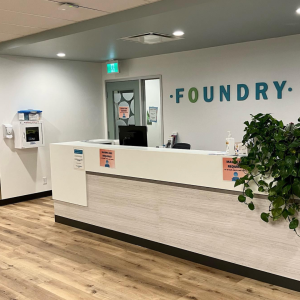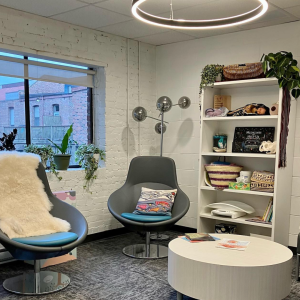 To better meet the increasing demand for primary care, mental health and substance use services from Greater Victoria's youth, the brand-new space has been expanded to include almost double the number of exam rooms, youth-friendly & trauma-informed talking rooms and group rooms, in addition to private outdoor patios and a low-stimulation lounge connected to the main greeting area.
"We are beyond thrilled that Foundry Victoria now has a brand-new expanded centre to better serve the complex health and wellness challenges faced by youth in the Greater Victoria Area", said Steve Mathias, Foundry's Co-executive Director. "Foundry's vision is to always meet youth where they're at and support them to live good lives. This new centre speaks to Foundry's commitment to tailoring, evolving and growing our centres and services to provide the best possible wellness resources for young people in this province."
To learn more, read the full News Release HERE.