Facebook add
Facebook has a lot of users, which means your News Feed may present more information than you really want. Your News Feed can be managed if you look at the left sidebar. Click the three dots that show up beside the News Feed menu item (the dots only show when you hover over News Feed) to manage what you want to see.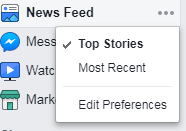 Groups and Pages are also a common way for your News Feed to get cluttered. If you go into your Groups and Pages, you can see options to "Leave Group" or "Unlike" or "Unfollow" pages. By doing so, you can help clear up your News Feed to only contain things your friends may share and things you want to see.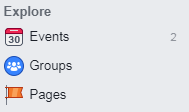 Finally, your Friends list should be something you consider managing. Consider Unfollowing or Unfriending people if:
        They post content you find offensive

        They post content that conflicts with your perspective and make you upset

        They post so frequently that it clutters your Feed

        They post content that makes you feel inferior

        Your relationship has changed with that person
Twitter add
If you're an active Twitter user, you know that your Timeline can be pretty cluttered with a bunch of things: spam, retweets, repeat tweets, or just random tweets that don't interest you at all. Besides unfollowing users, we have a couple tips to help get control of your Twitter Feed again.
Use Lists. If you click your icon at the top right, you can see your lists. Think about what kind of lists you can make (Family, Friends, Coworkers, etc.) and organize your followers so you can focus on who can be seen or not.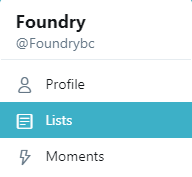 Turn off retweets for individual accounts. Sometimes, you may follow people who follow people in common with you, and they often retweet things you've already seen rather than put out content themselves. You can find the "Turn off Retweets" option when you click on the three vertical dots of someone's profile.

Instagram add
The people you follow on Instagram should be posting the content that is important to you. The type of media you consume visually should reflect what you're interested in! Consider Unfollowing accounts for:
Uninspiring celebrities.

Let's face it – some celebrities just don't live a lifestyle we can relate to. When we're surrounded by celebrities who only promote sponsored products or may make you feel inferior, it may just clutter your feed. If you "don't know why you're still following them" then that's a good enough reason to click that Unfollow button.

People who you don't know anymore.

Our relationships with other people change over the time we've known them. If you're following someone to stay connected to them because you want to, then it's fine. But if you're following someone you don't have close relations to, there's no need to keep up with someone you barely know.

Hobbies you're not interested in anymore.

Sometimes we really get into different trends for hobbies or interests. These could include trends like slime, DIY projects, calligraphy, etc. This isn't to say you couldn't still bookmark things, but maybe reconsider unfollowing a whole account dedicated to something you're not interested in.

Pages that don't promote good health and well-being.

If a user doesn't make you feel good about yourself, or promotes bad health, it may be a sign that you should Unfollow them. Sometimes they may promote negative thinking, a negative body image or share offensive posts altogether.
Those are some tips for you to help clean up your social media! By doing some digital cleaning, it can help simplify your life and help you think more on the media you consume. This whole process may take a bit of time too, so be patient with yourself! Good luck!