Self-care: (noun) the practice of taking action to preserve or improve one's own health. The practice of taking an active role in protecting one's own well-being and happiness, in particular during periods of stress. Self-care is what people do for themselves to establish and maintain health, and to prevent and deal with illness. It is a broad concept encompassing hygiene (general and personal), nutrition (type and quality of food eaten), lifestyle (sporting activities, leisure etc), environmental factors (living conditions, social habits, etc.) socio-economic factors (income level, cultural beliefs, etc.) and self-medication. 
Like our emotions, it's also normal for our energy levels to shift from day-to-day. During difficult times, we are encouraged to engage in self-care, whether that be going for a walk, having a hot shower, eating our favorite foods, journaling, or making a hot beverage. Sometimes, engaging in self-care might feel like it's just too hard. An adjustable self-care toolkit can allow us to be kinder to ourselves and give us the compassion we need on those hard days. 
What is an adjustable self-care toolkit?
An adjustable self-care toolkit involves someone adding things that make them feel good, help them feel grounded, and take better care of themselves during challenging times. Having a self-care toolkit that can be adjusted to how people feel on a given day, can be a game changer for maintaining their daily wellness and sense of accomplishment/productivity.   
We wanted to share a couple examples of adjustable self-care toolkit templates, created by Foundry Virtual BC Youth Peer Support Worker, Cassandra, and one of her clients. Both Cassandra and her client live with invisible disabilities – disabilities that often are not seen by others- that require them to be aware of their energy levels, and mindful of the pace at which they move through their day.  
If you've struggled to maintain a self-care routine when your physical, mental, or emotional energy is lower than usual, we recommend starting with reflecting on what self-care is for you and how it should make you feel good, instead of comparing to what self-care looks like for other people. This can make it feel less overwhelming. You might even feel like you can do more once you've passed the hurdle of starting! 
How to create a basic self-care toolkit.
1) Identify your self-care needs. What activities or practices help you feel calm, relaxed, grounded, or energized? Make a list of the activities that feel most true to you for your needs and lifestyle, not what you see others doing. These could include things like: 
journaling, 

 

practicing good hygiene, 

 

spending time in nature, 

 

moving your body, 

 

talking to loved ones, 

 

mindfulness and meditation, 

 

cuddling a pet, 

 

cooking a healthy and satisfying meal for yourself.  

 
2)  Make your toolkit adjustable. Consider adding things to your list that can be customized to meet your changing and evolving emotional needs and energy levels. For example, if good hygiene is a part of what keeps you feeling positive, what is a way you can maintain good hygiene on days when you have less capacity? This part is unique for everyone.  
For Cassandra, chronic fatigue and pain can get in the way of being able to stand in the shower for more than 5 minutes, so on days when she has less energy, she modifies her full shower routine to having a bath. This way, she is still able to bathe herself but can save energy by sitting down. If baths feel like too much, using a wet and soapy washcloth can also be a way to maintain good hygiene. It may not bring the same calming and deep cleaning effects that a shower might, but at least you'll have a way to feel a bit better than you might if you skipped doing any hygiene all together! Adjustable self-care is all about different ways to do the things you want to do, in a way that respects your energy levels that day. 
3) Consider what barriers tend to get in the way of your ability to complete your needs. When thinking about ways to make tasks more manageable, it can also be helpful to think about what feels easier or requires less energy.  If keeping your space tidy helps to maintain your wellness, perhaps buying a storage bin to toss laundry into could help you feel organized on a low-energy day, in a similar way that doing a load of laundry, folding it, and packing it away on a high energy day can make you feel. This will allow you to keep your space feeling decluttered without needing to spend energy you don't have. Once you've rested and have more time/energy, you can do the full load of laundry.   
There are a bunch of different ways to make a self-care kit. Here are a few examples Cassandra and her client have put together.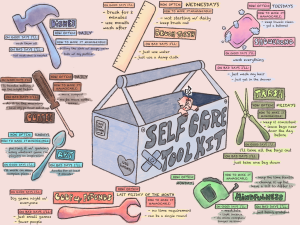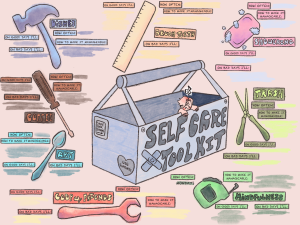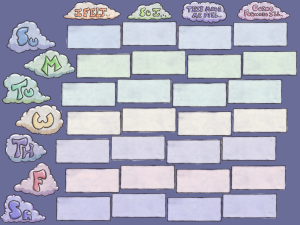 It's okay to take your time while you think about small adjustments for each self-care strategy in your toolkit. Remember to continue to check in with yourself and update your list as you navigate what works for you. Having these adjustments in place will allow you to still show yourself some care, boost endorphins (those feel-good hormones that can impact your mood), and give you the feeling of accomplishment without pushing your mind and body on days you have less capacity and potentially feeling burn-out.   
Are you someone who could benefit from creating your own adjustable self-care toolkit and not sure how to begin? Connect with one of Foundry Virtual BC's youth peer support workers to have a conversation and help you get started. Download the app and schedule an appointment any day of the week or access our drop-in services.  
Cassandra is a Youth Peer Support Worker with Foundry Virtual BC. With three years of peer support experience under her belt, Cassandra uses her lived experience with eating disorders, anxiety, depression, chronic illness and CPTSD to walk alongside and empower the youth she works with, wherever they are at in their mental health journey. Creating an adjustable self-care toolkit became essential when Cassandra was diagnosed with ADHD and Chronic Fatigue Syndrome, and the adjustments have been a huge part of allowing her to maintain her overall wellness.
Reference: Self-care definition: https://isfglobal.org/what-is-self-care/