Penticton
Foundry Penticton offers young people aged 12-24 access to mental health and substance use support, physical and sexual healthcare, peer support and social services.
keyboard_arrow_down
Donate Here
Walk-in services
Tuesday & Thursday
3:00 to 5:00PM
Mental Health, Primary Care, Youth and Family Peer Support and Social Services available by appointment please call 778.646.2292
Access
All young people 12-24 with valid BC MSP cards can access Foundry services.
Workshops
Interested in joining a group or workshop at Foundry Penticton? Call us at 778.646.2292 or email foundrypenticton@oneskycommunity.com to learn more!
Land Acknowledgement
One Sky Community Resources offices and spaces, and the work that we do, are on the sacred, ancestral territories of the acknowledges our presence on the traditional, ancestral, and unceded tm̓xʷúlaʔxʷ (land) of the syilx / Okanagan people who have resided here since time immemorial. These territories are now home to many diverse First Nations, Métis and Inuit peoples. Our work does not start and end with this land acknowledgement; it is one important action towards Reconciliation, honouring the land and Indigenous heritage, which dates back since time immemorial.
This land acknowledgement was developed with the members of the Indigenous Advisory Council; we thank them for their generosity and collaboration.
Access Our Services Through the Platform
Youth Peer Support and Family Peer Support are now available to book on the Foundry BC app! To book all other services, please visit the centre or call 778.646.2292
* Don't know what you need? Unsure of what the first steps are or where to go from here? Book an appointment with Youth or Family Peer Support Workers to get started.
If you would like to access our drop-in services, please visit our centre Tuesday & Thursday between 3:00 pm to 5:00 pm or Wednesday between 4:00pm to 6:00 pm.
 
Download the Foundry BC App 


Access in a browser on your computer or phone (no downloading needed!) 

Having trouble? Check out this cheat sheet! 
If you continue to run into technical issues, please let us know using this form. We are here to support you in troubleshooting! 
How can I understand this platform better?  
If you run into any technical issues with the platform, please submit your issue here. If this platform creates a barrier for you, please respond to this email and we will help you out.
The Foundry BC platform will allow youth and families to do the following:
Book appointments with Foundry Penticton service providers 

 

Access your local Foundry centre's virtual appointments from your Smart Phone or Computer 

 

Easily find locations of in-person appointments and complete surveys before your appointment to save time. 

 

Only tell your story one time by writing and sharing a story through our "My Story" Feature 

 

Receive reminders about upcoming appointments  

 

Cancel appointments through the click of a button without needing to call or email. 

 

Receive messages from your service providers through inbox – a platform accessed on the Foundry BC app that allows you to safely and securely interact with your service provider.  

 
Groups & Workshops
Interested in attending a group at Penticton, This section provides an overview of current & upcoming groups and workshops- please keep checking back as we continue to add new offers, often!
Neurodivergent Youth Group
Don't miss out on the opportunity to join the Neurodivergent Youth Group at Foundry Penticton. This group welcomes young people aged 12-24 who identify as neurodivergent. Each week, we participate in thrilling activities, develop essential life skills, and explore new learning opportunities.
Date: Tuesdays
Time: 3:15 PM – 5:00 PM
To register, reach out to Cain Critchlow
Email : Cain.critchlow@oneskycommunity.com
Tel: 250-809-8476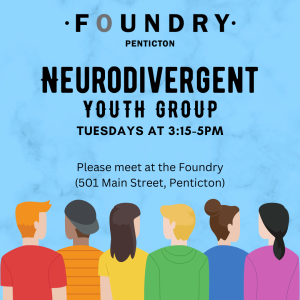 RADAR
RADAR is a safe group for members of the 2SLGBTQIA+ community along with allies and friends.
Date: Thursdays
Time: 3:15 PM – 5:00 PM
To register, reach out to Cain Critchlow:
Email: Cain.critchlow@oneskycommunity.com
Tel: 250-809-8476

Dungeons & Dragons

Join us for an epic journey as we bring Dungeons and Dragons to Foundry Penticton! Whether you're a seasoned player with your own character or completely new to DnD, we've got you covered.
Registration is encouraged.
Date: Starting October 20th, every Friday
Time: 5:00 PM – 8:00 PM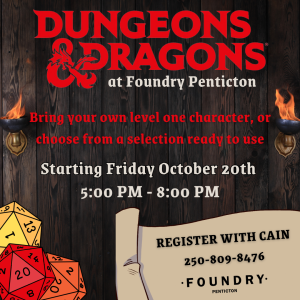 Mental Health Matters
Come check out our Mental Health Matters group!
Each Friday, we'll be diving into ways to nurture our precious minds. You can expect relaxing crafts, coping skill workshops, connecting with like-minded individuals, and exploring various self-care practices.
Date: Fridays
Time: 5:15 PM – 6:15 PM
To register, reach out to Shawna Burghall
Email: shawna.burghall@oneskycommunity.com
Tel: 250-488-0534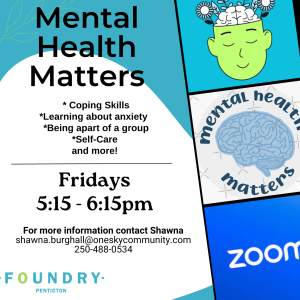 Walking Wellness

Walking is an amazing boost for your mental health, and we've got your back!
Whether you need an accountability buddy or simply want to connect, this is the perfect opportunity to take care of your mental health while enjoying good company.
Don't hesitate to join us—it's a step in the right direction for your well-being!

Date: Mondays
Time: 11AM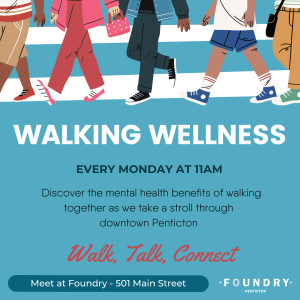 Important Centre Information
Foundry centres are now re-introducing in person services, but will continue to offer select services virtually – over the phone or video chat. Please call your local Foundry centre for the most up to date information on service availability.
Please call Foundry Penticton at 778.646.2292 for the most up to date information on service availability.
At this time Foundry Penticton will remain open with the following changes:
Walk-in services including: Primary Care, Counselling, Access & Intake, Youth Navigation & Peer Support.
Primary Care, Access & Intake services are still available by appointment.
We will be spacing out our appointment times in order to reduce congestion and accommodate social distancing in our waiting area.
All Foundry Penticton Groups information can be found on our Facebook and Instagram.
Staff are examining ways to utilize technology in order to bridge any gaps where possible.
The safety, health and well-being of our young people and their families, staff and our community partners is our top priority.  We've taken a number of measures at Foundry centres to ensure we are aligned with BC Centre for Disease Control's recommendations. A few of these measures include:
Plexiglass barriers at reception desk and waiting areas seating being spread out to accommodate for physical distancing
Staff members practicing physical distancing and being equipped with person protective equipment (PPE) including masks, gloves, etc.
Adjusting service hours to decrease the number of people in the center at once
Hand sanitizer or alcohol-based hand rub is available throughout the centre
Thorough cleaning of all shared equipment (including Toolbox iPads) after each client and all other areas of the centre is cleaned multiple times throughout the day
Resources available regarding COVID-19
If you are looking for 

non-medical information about COVID-19

 – you can call

1 888 COVID19

seven days a week, from 7:30 a.m. to 8 p.m. Information is available in more than 110 languages.

BC COVID-19 Self-Assessment Tool

  was created by the BC Ministry of Health to help determine whether you may need further assessment or testing for COVID-19. You can complete this assessment for yourself, or on behalf of someone else, if they are unable to.
Make a difference for youth in Penticton by donating to the centre today.
Donate Now
Foundry Works is a new supported employment and education program for youth who are interested in working, going to school, or completing a training program. Foundry Works helps youth to build the skills and experiences they need to achieve their goals. This program is available to BC youth between the ages of 15-24 years old, who are not currently employed or enrolled in any other employment program. Click here to learn more.
If you are a young person interested in participating or an employer/business who is interested in getting involved, please contact Keri Barron.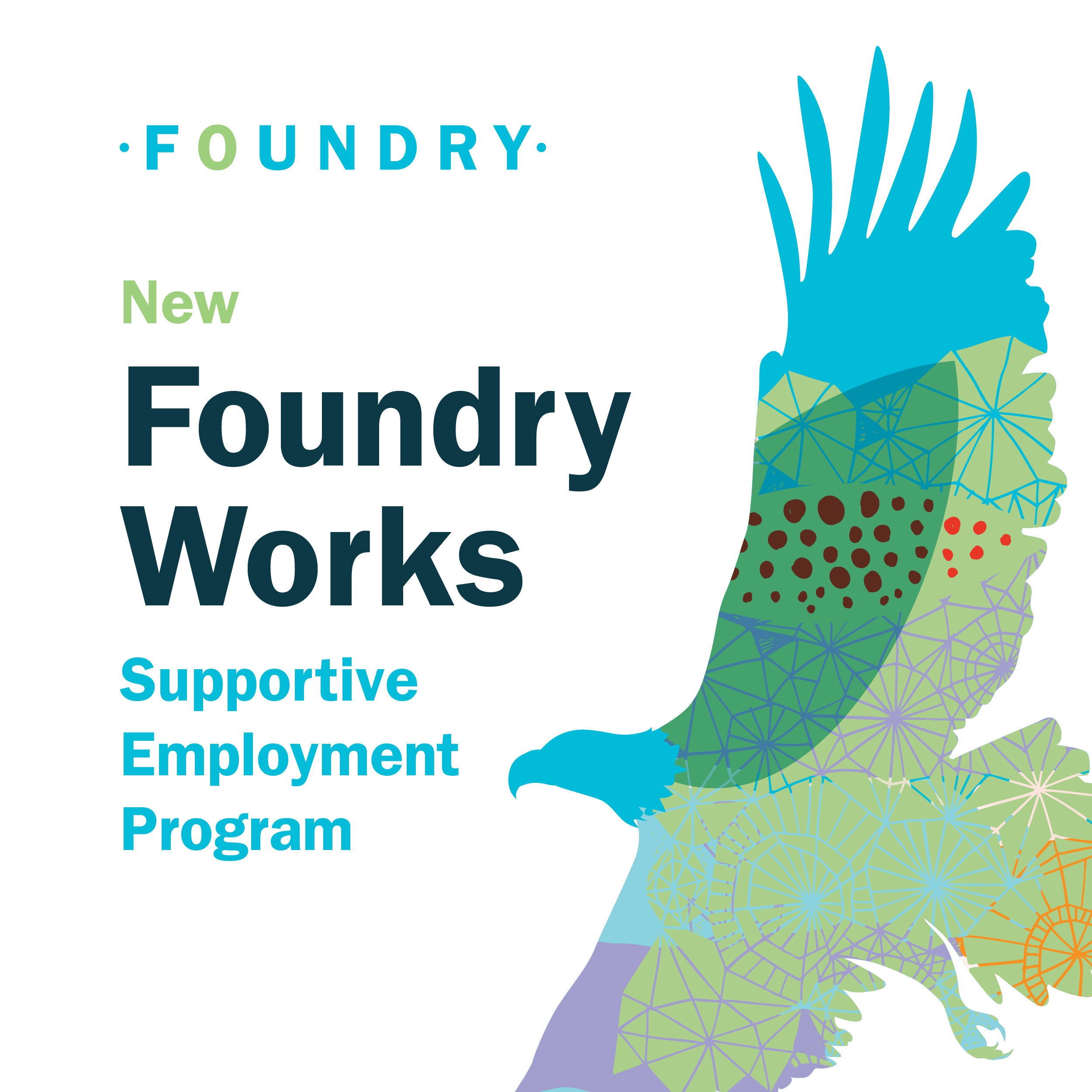 Partnerships
Hosted by the OneSky Community Resources, Foundry Penticton unites partner organizations that will address the health and wellness needs of young people aged 12 to 24 and their families.