North Shore (North & West Vancouver)
Foundry North Shore offers young people 12-24 access to mental health and substance use support, primary care, peer support and social services
keyboard_arrow_down
Donate Now
Centre Hours
Monday - Friday
9 am - 5 pm
Drop-In Counselling
Monday-Thursday
1 pm - 5 pm
Drop-In Primary Care
Monday –Thursday
2:30 pm - 5:30 pm
Get the latest updates on this Foundry centre by signing up here
Land Acknowledgement
Foundry North Shore is located on the unceded and traditional territories of the xʷməθkʷəy̓əm (Musqueam), Sḵwx̱wú7mesh Úxwumixw (Squamish), and səl̓ilw̓ətaʔɬ (Tsleil-Waututh) Nations.
Welcome to Foundry North Shore!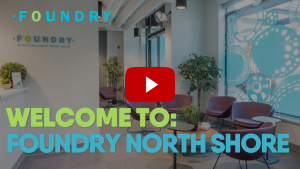 Come see us at Foundry North Shore! Serving the wellness needs of youth and their families in North and West Vancouver.
There is a constant buzz around the centre and the team is excited about being a part of transforming access to services for young people in our community.
Foundry North Shore Available Services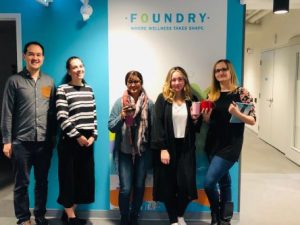 Youth Peer Support
add
Provides support and navigation services to youth 12 – 24 yrs old using a lived experience peer lens. Supports some groups and sees 1-1 clients.
Physical & sexual healthcare
add
Primary care serves youth aged 12-24 who live on the North Shore. This geographical area includes Lions Bay and Bowen Island. Our clinic is staffed by Nurse Practitioners, family GP's, an OAT nurse, a Primary Care Nurse and a Social Worker. Our clinic provides medical services in three ways.
Drop in one off medical and sexual health services. The sexual health services include; STI testing and treatment, pregnancy testing, IUS and Nexplanon insertions, emergency contraception and dispensing contraceptives. Medical drop in can be for any medical need. These clients who do not receive longitudinal care can be from outside of our catchment area.
We also share care with GP's in the community. Our clinic will provide care for a specific medical need and then return the client (with a treatment plan) to the care of their GP once they are stabilized. Many of the clients we see for shared care have complex mental health, or are coming for gender affirming care services.
The third way we see clients is to be their Most Responsible Provider (MRP). For these clients we are there "GP" and they will come to our clinic for all of their medical care. They will be d/c'ed when they age out or move out of catchment.
Eating Disorders
add
Supports youth 12-18 years old who have symptoms of anorexia or bulimia.  Team consists of a pediatrician, dietitian, nurse and two part time counsellors.  Counselling and dietitian support is provided.  Outpatient services include assessment, early intervention and treatment. Physician referral required.
Foundry Work & Education Program
add
A new supported employment program which provides flexible, wrap-around services to help youth (16 – 24 yrs) who are currently not in education, employment or training to realize their education goals, develop work skills and gain paid work/study experience to successfully transition into the labour market. Provides supported employment placements to clients who have barriers to employment due to mental health and/or substance use issues.
Groups, Occupational Therapy & Rehab Assistance
add
Assesses functional barriers to participation in basic and instrumental activities of daily living, work, school and leisure. Supports clients to address these barriers through developing skills/knowledge and adapting the environment.  Services include functional assessments, treatment plans and life skill groups for youth 12 – 24 yrs old. Group based interventions address functional barriers with regard to social skills, life skills, independent living skills, bio-psycho-social wellness and leisure.   Groups have included cooking, gardening, yoga, supportive volunteering, art, hiking, etc.
Check back for groups available soon!
Drop-In Counselling
add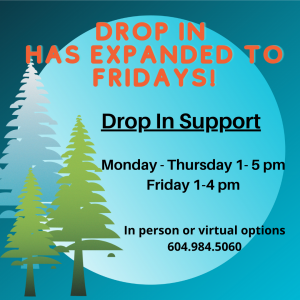 Drop in service is intended to promote support to those youth 12-24 who are experiencing complications in functioning that are understood as mild to moderate and non urgent. The service is low barrier with immediate intervention. A single session of drop in mental Health support is offered by a team composed of BA and MA level interventionists, using a Solution Focussed Brief Intervention Model. Clients can use this service as often as needed. The service is ideal for problem solving, resource development, mental health psycho education; communication skills building and coaching and should be understood as a stand alone service.
Mental Health Substance Use Support
add
Clients 12-24 with moderate to severe dual presentation of mental health and substance misuse symptoms requiring the specialized services of the treatment team. 1:1 therapist and psychiatry services determined by therapist/case manager. Care Planning with MHSU clinician
Intensive Case Management
add
Moderate to severe primary substance use with or without mental illness; functional challenges associated with housing, income and health; and current difficulties accessing health and social services.  Significant functional impairment and/or psychosocial risk factors. Requires outreach services and interdisciplinary team approach. Has been unsuccessful in or is not appropriate for less intensive services. Priority 1 clients that would benefit from a case a management approach to care (ex: early psychosis, high risk polysubstance use, requiring support in accessing a range of social and/or medical services. Willing to meet with an ICM worker
The Foundry would not be able to function well without the support of external partnerships that include or have included the North Shore Neighbourhood House, Capilano community services, Work BC, the ministry for social development and poverty reduction, the ministry for children and family development, West Vancouver community services, Hollyburn family services, Family services of the North Shore, Parkgate community services, Impact BC, and the Tsliel Waututh and Squamish na
Youth Urgent Response Team (YURT)
add
The Mandate of the YURT team is to provide short-term crisis, bridging and case management support to Youth who are in crisis and/or not connected to other longer term programs. The team also follows up with youth who present to LGH ER for Mental Health or Substance Use related reasons and need to be followed until they can connect with a longer-term service. The program also attends youth mental health related calls with the police in North Vancouver as needed. The Team serves youth 12-19 who identify as in crisis. Anyone who feels they meet these criteria can refer themselves or anyone they know to our service. There is a central phone line 604 230 0389 that anyone can call to refer. The clients must live in North or West Vancouver. The team will work with families of youth who request our involvement. The team will follow youth for a period of up to 12 weeks.
Prevention
add
Creates prevention initiatives related to substance use by liaising with special interest groups (ie. Schools, parents, community service providers, etc).   Prevention initiatives include the Parent Education Series, Let's Talk Shop, MH/SU Webinars, and curriculum teacher training.   Also manages Foundry's social media channels and leads engagement activities for parents (Parent Ambassadors) and the youth service provider network (Youth Coalition, Pride at the Pier, City Fest, etc).
Partnerships
Hosted by Vancouver Coastal Health, Foundry North Shore unites over 10 partner organizations that will work together to address the health care needs of youth ages 12 to 24 and their families.
Thanks to all the partner organizations that are part of Foundry North Shore!
Family Services North Shore
City of North Vancouver
Capilano Community Services Society
Hollyburn Family Services Society
Work BC Centre
District of North Vancouver
District of West Vancouver
North Shore Neighbourhood House
Canadian Mental Health Association
Ministry of Children and Family Development
Parkgate Community Services Society
Family Smart provides many video resources to support children, youth and families.  Please check them out by visiting: https://familysmart.ca/videos/
Make a difference for youth on the North Shore by donating to the centre today!
Donate Now
chevron_left
chevron_right
chevron_left
chevron_right