Foundry Kelowna's Wellness on Wheels Service
Foundry Kelowna operates a, first of its kind in BC, mobile unit that provides health and mental health care to young people 12-24 years old in three Central Okanagan communities where there are barriers to accessing these services.
Service schedule:
Lake Country
Tuesdays 2pm-6pm at Memorial Hall, 10130 Bottom Wood Lake Rd.
Westbank First Nation
Wednesdays 2pm-6pm at Westbank First Nation Youth Centre, 1880 Quail Lane
West Kelowna
Thursdays 2pm-6pm Near the Westside Youth Centre located at 2466 Main St., accessible via Brown Rd.
Drop-in available or call 236 420 2803 to make an appointment.
What's Foundry Kelowna?
When CMHA Kelowna opened Foundry Kelowna, the Okanagan's first integrated, youth, mental health centre, in 2017 we knew it was a game changer. We just didn't realize how significant of an impact it was going to make.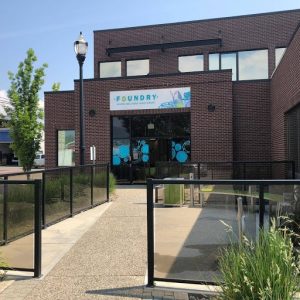 Since opening its doors in 2017, Foundry Kelowna has fundamentally changed the way we serve youth in our community who need help.
Since opening, Foundry Kelowna has been there for thousands of young people and  families who needed an inclusive and safe space to go to for help during turbulent times. Foundry Kelowna has fundamentally changed the way we serve youth in our community who need help.
How we got to the Wellness on Wheels service
What we learned when talking to young people about their mental health is that there are still barriers to getting help. Whether it is because of transportation or financial challenges, or perhaps barriers due to stigma, there are youth who have not been able to get the help they need.
Finding the right supports should not be difficult for young people. This gap in accessibility is exactly the need that Foundry Kelowna's Wellness on Wheels helps to address – removing the geographic obstacles to help for youth in the Central Okanagan.
For youth, by youth
From the initial concept, to the look and feel, and the services provided – this has been a youth informed process. We consulted with more than 100 diverse young people between the ages of 12-24 from across the Central Okanagan to understand what might prevent accessibility to health and social services particularly in under-represented demographics. We took their recommendations and applied them to the Wellness on Wheels model of care to make sure we are truly providing the help they need –where, when, and how they need it.
These engagement groups included representation from: Foundry Kelowna Youth Advisory and Action Committee, ARC Programs, Boys and Girls Club Downtown Drop-in Centre, The Bridge Youth & Family Services Youth Detox 33, Central School, George Elliot Secondary School, Interior Health, Ki-Low-Na Friendship Society, Lake Country Native Association, Mount Boucherie Secondary School, Rutland Senior Secondary School, Westbank First Nation, Westside Youth Center.
Building lives, building community
Thanks to the support of a Province of BC Capital Gaming grant a private donor to the Foundry network and local corporate, individual and special event donors, we were able to launch this first of its kind in BC, mobile health unit for youth. Providing mobile health and mental health care services to youth where they are – in their space – is a significant undertaking. You can help.
We are collaborating with partner organizations in West Kelowna, Westbank First Nation and Lake Country for service delivery and we are seeking operational partners to support the ongoing care and maintenance of the vehicle.
We are also making sure we have the financial resources we need to provide a sustainable and reliable opportunity for youth to have safe, non-judgmental care and support. For more information on how you can support youth mental health in our communities contact CMHA Kelowna.
100% funded by donations and grants, we're inviting you to support mobile health for young people across the Central Okanagan. Where, when and how they need it.
Donate Today!