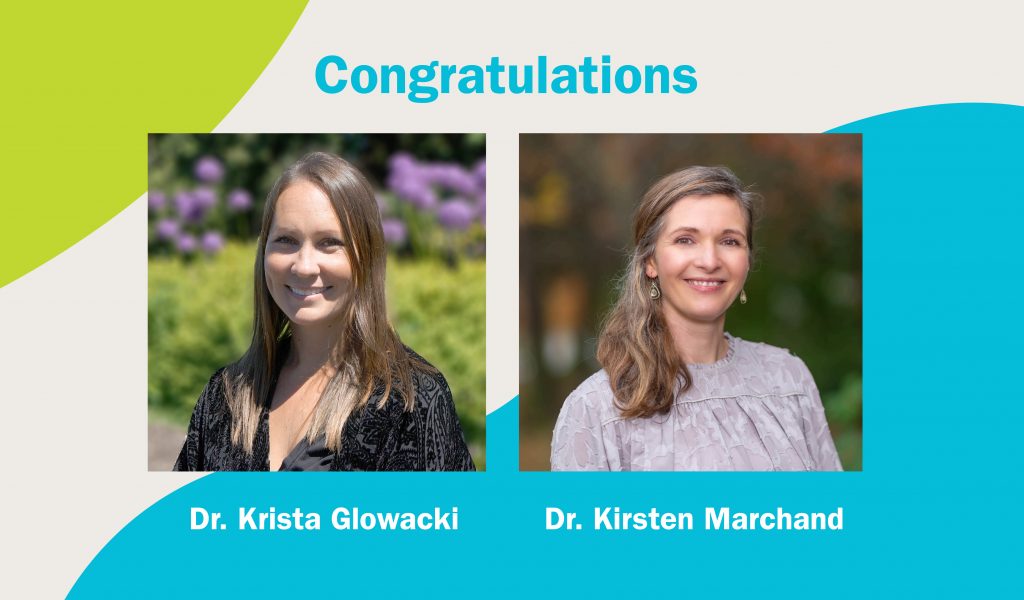 On September 9th, 2021, the Michael Smith Health Research BC (Health Research BC) named Dr. Kirsten Marchand and Dr. Krista Glowacki among the 86 recipients receiving the 2021 Scholar and Research Trainee awards.
The Health Research BC Research Trainee program supports health researchers in the training phase of their research career to enable career development and the long-term success of the BC health research landscape. Dr. Kirsten Marchand and Dr. Krista Glowacki are currently training under the supervision of Foundry's Director of Research, Dr. Skye Barbic. Learn more about their exciting work with Foundry below:
Dr. Kirsten Marchand
Investigating what matters to youth: A mixed-methods study of youth-centred opioid treatments and their outcomes
Since 2016, approximately 1,200 youth in BC between the ages of 15 and 24 have died from opioid-related overdoses.
The main goal of Dr. Marchand's study is to determine how to best help youth who use opioids. To meet this objective, youth, parents/caregivers and service providers will be engaged in a research study, which will explore priorities for opioid use treatment delivery and determine how to best define the benefits of opioid use treatment for youth.
From these findings, service providers and policy makers can deliver opioid treatments in a way that will better meet youths' unique needs. It will also support future researchers to make sure they are studying what matters most to youth.
"Through my joint appointments at Foundry, the Centre for Health Evaluation and Outcome Sciences, and the University of British Columbia Faculty of Medicine, this award provides a tremendous opportunity to expand my mixed-methods health services research and implementation science skills," says Dr. Marchand. "This research is essential to inform the co-design and implementation of youth-centered care into substance use treatment services in British Columbia."
Dr. Krista Glowacki
Movement and Young Minds: co-designing and integrating physical activity programming into health services for young people experiencing mental health and substance use challenges 
In Canada, mental health and substance use (MHSU) disorders affect 25% of young people aged 12 to 24 years. The recent global pandemic has exasperated this. Dr. Glowacki's study will explore how physical activity programming can be offered as a health service through Foundry centres which can be used to manage mental and physical health.
This will be done by using photographs to understand youth needs; developing a working group to consider how to add a service; and, co-creating a physical activity program.
This work will be done collaboratively with diverse youth, service providers and researchers. Dr. Glowacki's long-term goal is to improve the quality of care and the health of young people with MHSU disorders living in BC, Canada and across the world.
"I am honoured to receive the Michael Smith Health Research BC/Centre for Health Evaluation & Outcome Sciences Research Trainee award to continue to work with Foundry, Dr. Barbic, the research team, and young people", notes Dr. Glowacki. "Similar to many teenagers today, I dealt with many health challenges. However, through the power of physical activity I was able to take control to manage my mental and physical health, and I'm excited to explore how young people in BC can do the same."
Congratulations to Dr. Kirsten Marchand and Dr. Krista Glowacki on their awards! With funding support from Health Research BC, we're excited to see the impact of their research in furthering the delivery of Foundry services as well as contributing to the success of BC's health research system.
Since our inception in 2015, Health Research BC was one of several organizations who provided critical funding to Foundry. This year, in celebration and honour of Health Research BC's 20th anniversary, Foundry extends our deep gratitude and appreciation for our continued partnership with the Foundation.
Learn more about Health Research BC Research Trainee program.