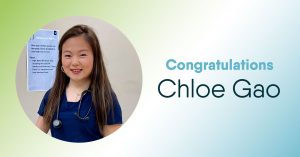 Recently, the annual Vanier Canada Graduate Scholarships (Vanier CGS)  launched by the Government of Canada named Chloe Gao, as one of 55 successful recipients of the prestigious award. Among thousands of applicants, Chloe ranked 10th in the country. 
Under the supervision of Dr. Skye Barbic, Chloe recently joined the Foundry Research team as an MD/PhD student from the University of British Columbia. This seven-year program is designed for students who wish to pursue a career as physician-scientists.  
Her proposed research aims to address the lack of developmentally sensitive, culturally safe, youth- and family-centred mental health and substance use (MHSU) services. Over the next three years, she will be engaging diverse first- and second-generation East Asian immigrant youth to build a better understanding of their needs and co-design strategies to improve access to MHSU services. This is a goal that hits close to home for Chloe who was hospitalized with anorexia nervosa in eighth grade. 
Growing up, the words "mental health" weren't part of her family's everyday vocabulary, leading to cultural stigma that they carry to this day. With these cultural and linguistic gaps, it was difficult for Chloe to meaningfully engage in family therapy and support groups.  
"At the time, I could not yet name racial inequities in health care or understand how established structures affected East Asian youth, like me, seeking mental health care," says Chloe. "Yet with each day, I continued developing a sense of responsibility towards other racial minority youth seeking mental health care." 
Over the last few years, mental health continues to be at the forefront, particularly among young people in Asian communities. The impact of the ongoing pandemic and surge in anti-Asian hate crimes across North America motivated Chloe to develop her expertise through research and interventions to ensure the dignity, safety, and respect of all people receiving mental health care. 
As a Vanier scholar, Chloe is committed to amplifying the voices of youth and families with lived experiences of mental health issues through her current research and collaboration with Foundry, Providence Research, PopData BC, BC Ministry of Mental Health and Addictions, UBC's Faculty of Medicine and various stakeholders. 
"My career goal is to use what I have learned as a patient, medical learner, researcher, and advocate to foster hope and improve systems of care for diverse youth and families impacted by mental illness," says Chloe. "The Vanier Scholarship will position me as an emerging leader in the next generation of physician-scientists at Foundry, UBC and the Faculty of Medicine in MHSU health services, youth engagement, and co-design research." 
Valued at $50,000 per year for three years during their doctoral studies, the Vanier CGS recognizes doctoral students who have demonstrated strong leadership skills and a scholastic achievement in the social sciences and humanities, natural sciences and engineering, and health.  
Congratulations to Chloe for receiving this incredible honour! We're so excited to see the impact of this research in prioritizing and improving the quality of care for young people in BC and across Canada.