Cariboo Chilcotin
Foundry Cariboo Chilcotin offers young people aged 12-24 access to mental health and substance use support, physical and sexual healthcare, peer support and social services.
keyboard_arrow_down
OFFICE HOURS
Monday to Friday
9:00AM - 6:00PM (see below on how to book!)
Get the latest updates on this Foundry centre by signing up here
Access Our Services
How to book services at Foundry Cariboo Chilcotin!
Counselling and youth peer support are now available to book on the Foundry BC app! To book all other services, please visit the centre or call 250-398-2185.
* Don't know what you need? Unsure of what the first steps are or where to go from here? Book a navigation appointment with one of our Youth Peer Support Workers to get started.
If you would like to access our peer support drop-in services, please visit us Monday through Friday between 12:00pm-4:00pm.
If you would like to access our counselling drop-in services, please visit us Tuesday 12:00pm-6:00pm and Thursday between 10:00am-6:00pm.
Download the Foundry BC App




Access in a browser


Having trouble? Check out the Client Cheat Sheet Foundry BC App
If you continue to run into technical issues, please let us know using this form. We are here to support you in troubleshooting!
Who we are
Hosted by the Cariboo Chilcotin Child Development Centre Association, Foundry Cariboo Chilcotin unites multiple partner organizations that will address the health and wellness needs of young people aged 12 to 24 and their families who live the Cariboo Chilcotin area.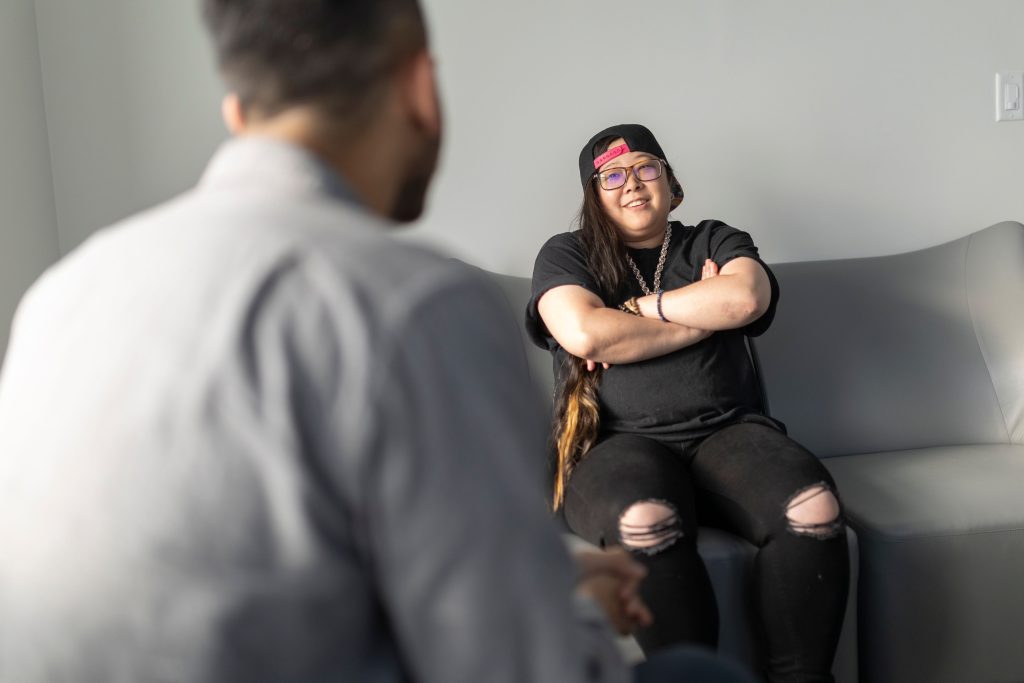 MENTAL HEALTH AND SUBSTANCE USE
add
Mental health clinicians are available to meet youth (ages 12-24) for intake interviews and provide service matching to appropriate mental health and substance use services.
PHYSICAL AND SEXUAL HEALTH
add
We provide free, confidential information and education regarding sexuality, physical and mental health to young people ages 12 to 24. Services include diagnosing and treating injuries, illness, providing prescriptions, birth control options, emergency contraception, pregnancy testing and information, as well as testing and treatment for sexually transmitted infections (STIs).
The Physical and Sexual Healthcare clinic is currently accepting new patients for youth that do not have a primary care provider!  The Physical and Sexual Healthcare team can provide on-going care for you until age 25.  We encourage young people to stay connected to their existing family doctor or nurse practitioner if they have one, or our staff can work with your current provider, if needed. Most appointments can be made within the week. Just give us a call or drop by to book your appointment! 
These services can be delivered by a variety of health professionals such as doctors, nurse practitioners and nurses. 
YOUTH AND CAREGIVER COUNSELLING
add
Our youth and caregiver counselling services are here to support you with whatever is on your mind today, one session at a time. After a session, you and your counsellor will decide on the next steps to your care. You are welcome to use this service more than once, but we cannot guarantee you will have the same counsellor every time. Counselling is also available to caregivers of youth who are between the ages of 12 to 24. We are happy to help you find on-going therapy, psychiatry, or other services to fit your needs. 
YOUTH PEER SUPPORT
add
Youth Peer Support Workers are young adults that bring their own experience with navigating the health and wellness systems within our community. Our Youth Peer Support Workers are here to welcome you to Foundry and can provide information about the services that are offered. 
Our Youth Peer Supporter Workers are available to help support and connect young people to services within the community. Follow-up sessions can be made within a few days of your counselling appointment. 
FAMILY PEER SUPPORT
add
Our Family Peer Supporters provide emotional support, system navigation, information and resources based on their own lived experience of parenting a youth with mental health and/or substance use challenges. This appointment is currently bookable on the Foundry BC app.
How do I create an account?
add
How to access services from a different Foundry centre?
add
How to change your notification preferences on your Foundry BC app?
add
Do you already have an account with Foundry Virtual BC?
add
The Foundry BC Platform will allow youth and families to do the following:
Book appointments with your Foundry Cariboo Chilcotin service providers. 

 

Access your local Foundry centre's virtual appointments from your Smart Phone or Computer. 

 

Easily find locations of in-person appointments and complete surveys before your appointment to save time. 

 

Only tell your story one time by writing and sharing a story through our "My Story" Feature. 

 

Receive reminders about upcoming appointments.

Cancel appointments through the click of a button without needing to call or email.

Receive messages from your service providers through inbox – a platform accessed on the Foundry BC app that allows you to safely and securely interact with your service provider.  

 
"Culture is important to me. I want somewhere I can go to learn to carve and use my hands."
"The Foundry needs to come to Cariboo Chilcotin to motivate the next generation of Youth so they can reach their full potential."
"We need to get out kids back on track, and they need more supports to get back in the right direction."
"Youth in Cariboo Chilcotin need to learn life-skills, financial aid, self-care, and how to handle addictions."
"Foundry is a place that's welcoming where you feel comfortable, not like that other place where you're stuck in a room and have to be there."
"Foundry is somewhere you can go and get everything you need to succeed in life."
"Foundry in Cariboo Chilcotin should be open right when you need it."
"Foundry is a place that's welcoming where you feel comfortable, not like that other place where you're stuck in a room and have to be there."
"Foundry is somewhere you can go and get everything you need to succeed in life."
chevron_left
chevron_right
Get Involved
Opportunities for Youth
Foundry centres are created for young people, by young people! We are currently recruiting for our Youth Advisory Committee (YAC), which will:
Help inform and create the decision making process for the centre
Inform the physical aspects of the centre, services available, etc
Once the centre opens, the YAC will continue to be an integral part of the team and shape youth services in Cariboo Chilcotin!
To learn more and get involved, contact Mike Franklin by email at mfranklin@cccdca.org or call 250-398-2185.
Help Spread the Word
We want to let the community know that Foundry is coming to Cariboo Chilcotin! If you are interested in helping us spread this messaging, feel free to print out our rack card and distribute!
Resources for young people
Make a difference for youth in Cariboo Chilcotin by donating to the centre today.
Donate now!