GOING INTO (ANOTHER) NEW NORMAL
It's hard to think about what the world will look like as we transition into yet another new normal. The past year has been a whirlwind emotionally, mentally and physically for a lot of us. Going back to seeing groups of people and within 6 feet of physical distance? Nerve-racking. Noticing how you may have changed in the past few months? Uncomfortable. Being aware of yourself and your health now more than ever? Exhausting. But…you're literally getting yourself through a global pandemic – that's something to be proud of! As we're going through yet another transition, it's important to acknowledge our struggles.
I'm nervous about doing normal everyday stuff, but I wasn't before. Why am I like this?
Anxiety is the feeling of worry and nervousness that we all feel from time to time. Anxiety becomes a problem when it stops us from doing the things that we want to do, used to be able to do, and even enjoyed.
You might have been an athlete before COVID-19, but now you struggle to even step into practices. Maybe you were a musician but are now too nervous to touch your favourite instrument. These are just a few of the ways anxiety may have impacted your life.
We can't tell you exactly why you would've developed anxiety now and not before. There are a lot of factors that could contribute to anxiety. But if you recognize these feelings early, it'll be easier to manage or even overcome them.
How do I overcome anxious feelings during this time of transition?
There are different ways to help deal with anxiety during this time.
 

Do the things you're used to, one small step at a time.

If you picked up a quarantine hobby that you found comforting, continue to do the things that felt safe and got you through lockdown. Not feeling comfortable with going to the gym? Pull up that home workout video you were following, or go for a walk. There's no pressure to "go back to how things were."

Cut back on social media

. Sometimes you might feel pressure to go out and hang out with others. But, if you don't feel ready, that's ok!  Don't push yourself. Turning off your notifications or putting your phone on a 'Do not disturb' setting in the evenings can help keep you from feeling the fear of missing out (FOMO) and give you more time to do other activities! 

Do what you think is best for your health.

Despite changing restrictions, if you want to continue to wear a mask because it's more comforting to you or feels safer – do it. Wanna continue physical distancing? That's okay. Let others know that you're not comfortable with hugging or shaking hands just yet. Everyone is at a different point in dealing with the pandemic and setting boundaries can help ease your anxiety. 

Talk it out.

You can try talking to someone you trust (like a friend, coach, or teacher) about how you're feeling. Not sure about how to start the conversation? We have a few

tips

to start talking with someone to help you out. 
Get help when you need it. If you've tried all these things on your own and still feel like nothing is working out for you, support from a health professional is available.
What do I do if I am anxious being around people again?
We're so used to not making plans and staying away from others over the past year that a sudden shift can be uncomfortable and even contribute to social anxiety. Social anxiety is when high feelings of worry, judgement, or shame come up before, during and/or after social interactions. If you're trying to deal with social anxiety, it's important to remember to be kind to yourself throughout the process. 
Here are a few things to keep in mind to help you ease into regular interactions while working through social anxiety: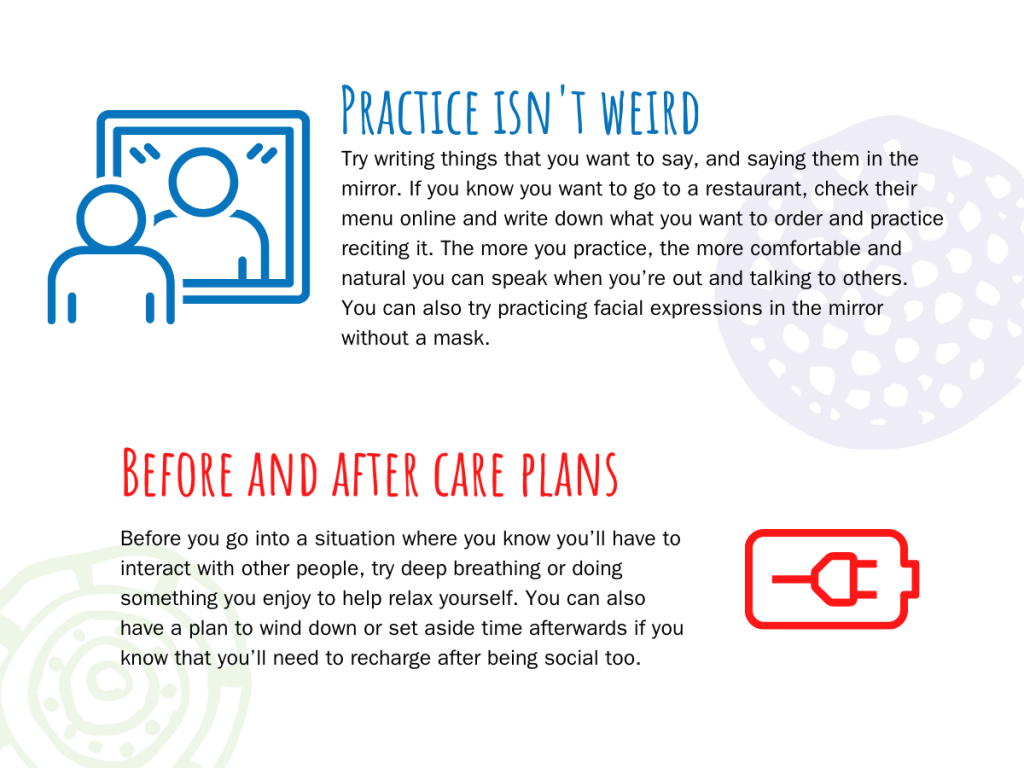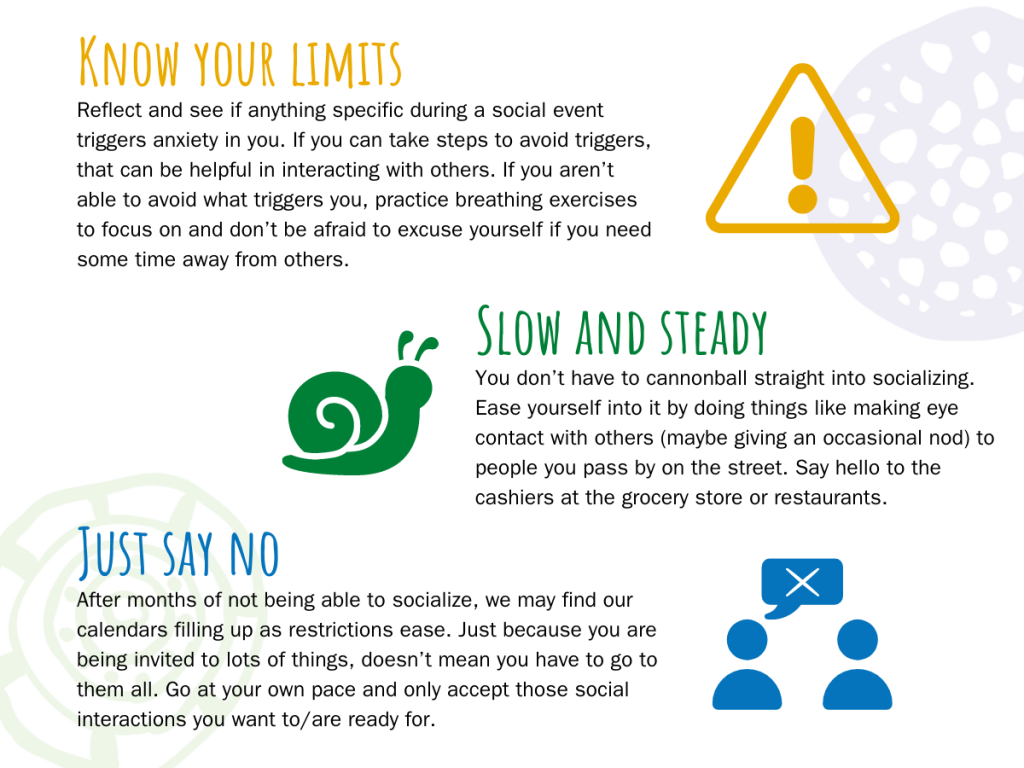 Social anxiety is difficult, and it takes time to get the hang of dealing with it, but with practice and the right support, you can change how you think and how you interact with others.
My body looks different from how it was pre-pandemic and I'm not happy about it.
Change can bring up a lot of different feelings and when our body changes, it can often feel negative. While society and media can make us see change as good or bad, change is actually something that is neutral.
It's normal for our bodies to change over time. And while you may have used this past year to enjoy a new hobby, it's okay if you didn't take the pandemic as an opportunity to do things differently. Whether you've spent more time comparing yourself to others on social media platforms, or more time at home with access to comfort foods, you are not alone in this.
As we return once again to a "new normal," we've noticed a significant increase in youth/young adults experiencing various uncomfortable feelings and thoughts surrounding their bodies, appearance and body image. Perhaps you've experienced feelings of uncertainty, shame, guilt and insecurity. If you're struggling with these feelings or noticing resistance to change, whatever you are feeling is valid AND we are here to encourage you how to tolerate, or even appreciate the change. 
Now is not the time to compare yourself or your body to your peers, friends, coworkers, or classmates. It is not the time to make any comments on the bodies of people around you, either. Just because your identity, appearance, body shape or size may have changed or shifted, it doesn't change your worth; you are no less worthy, no less deserving, no less loved, and no less important. 
How can I change how I feel about my changing body?
Remember to be kind and compassionate to yourself during this time of transition. There is nothing wrong with your body. You are loved for your personality, your heart, your characteristics, and so much more – not only for the way you physically look. 
Rather, we encourage you to focus on what your body has done and continues to do for you.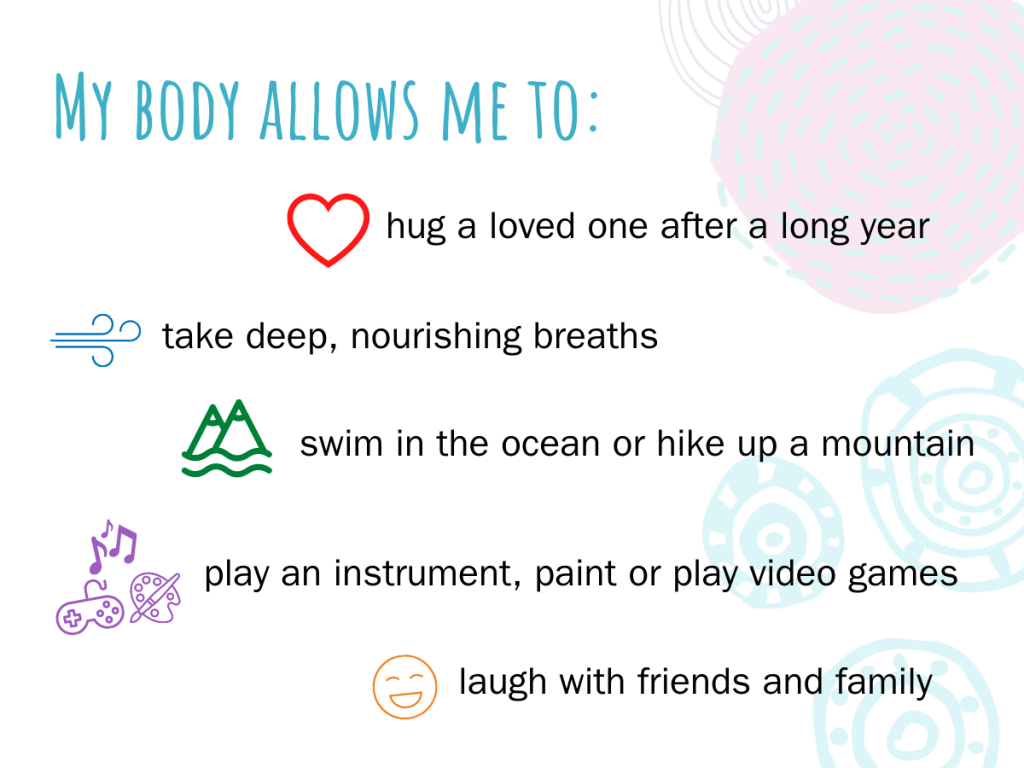 Focus on your smile in the pictures. Focus on the new adventures you are going to go on with friends, and how your body is supporting you to do those things. Focus on the yummy flavours of ice cream you can try, and the smiles on family member's faces when you eat their meals.

And when you see your friends, co-workers, or family members again, let's avoid commenting on their bodies. Instead, let's chat about ways that you managed the past year, new hobbies that you picked up and your hopes and dreams for the coming months.

Your body is holding and supporting you through a pandemic. That, in itself, is something to be proud of.
Keywords: covid-19, anxiety, coronavirus, social anxiety, body image, insecure, insecurity, coping, coronavirus, body image, burnout, anxious, emotional