New Foundry C
entre Locations
Announced
We're very happy to see four new Foundry centres included as part of the 2021/2022 Ministry of Mental Health & Addictions (MMHA) budget announcement. All young people and their caregivers across BC should have equitable access to integrated health and social services, and this expansion brings us closer to that goal.  
Staying true to our culture of collaboration, we'll be partnering with four communities in BC to implement these new Foundry centres, creating seamless pathways of care for young people and their caregivers.  
We're so grateful to the Government of BC, our partners and supporters, and we look forward to further collaboration to bring this expansion to fruition. 
On June 14, 2022, the Ministry of Mental Health and Addictions announced Fort St. John will join the Foundry network. Over the summer, we will announce the additional three communities.
Questions? Email expansion@foundrybc.ca 
Land Acknowledgement
At Foundry BC, our provincial work extends across lands that are built on a complex history of colonization. These lands are home to many First Nations, Métis and Inuit Peoples today. Indigenous people's histories, knowledges and ways of being are diverse and unique to every community Foundry has a presence in. 
We recognize and respect Coast Salish Peoples as traditional stewards of the stolen, occupied, and ancestral lands of the xʷməθkwəy̓əm (Musqueam), sel̓íl̓witulh (Tsleil-waututh), Skwxwú7mesh (Squamish), S'ólh Téméxw (Stó:lō), Stz'uminus Nations and the Hul'qumi'num Treaty Group that our central office is located on. 
When will the additional Foundry centre communities be announced? How were the communities chosen?
add
We expect to announce the next three communities over the next few months. We'll have more to say about the process in the weeks and months to come.
What services will these new centres provide?
add
Foundry centres bring together mental health services, substance use supports, physical and sexual health care, youth and family peer support and other social services to provide care in an integrated and individualized approach for BC young people aged 12-24 and their caregivers.  
How can young people in communities without a Foundry centre access Foundry services?
add
Due to the challenges and additional stresses of COVID-19, we know that young people need that support now more than ever. 
That is why, early in the pandemic, we supported the launch of Foundry virtual services that can be accessed from anywhere in the province.  
Youth can use the Foundry BC app to access drop-in counselling, scheduling a virtual counselling appointment, find peer support, get support with employment or join a youth or caregiver group 
For those with limited access to the Internet, the above services are also available by phone. 
Do youth and young adults need a referral to access services?
add
At Foundry, we aim to remove barriers for young people to access care. All services at Foundry are free of charge.
BC youth aged 12-24, and their families, are welcome at Foundry – no appointment is necessary and young people can self-refer to a centre or to virtual care.  
What funding is available for Foundry?
add
Budget 2019 provided $74 million over three years for A Pathway to Hope. Foundry expansion costs will be further supported with funding from the Canada-British Columbia Home and Community Care and Mental Health and Addictions Services Funding Agreement.
When will these four new Foundry centres be open and operational?
add
On average, it takes one to two years to open a Foundry centre. This time is spent engaging with youth, families and partners in planning, as well as finding and establishing the physical space. The greatest variable impacting how long it takes to open a Foundry centre is securing the location, which proves challenging in some communities.
How do I get a Foundry centre in my community?
add
Our vision is to eventually have 50 or more Foundry centres across the province, so every community that wants one has one, and so all youth in BC have equitable access to integrated health and social services.
If your community is interested in having a Foundry centre, we encourage you to begin exploring the concept with their community partners, including young people and their families, and to make their interest known to regional and provincial decision-makers. 
We encourage any community interested in Foundry to begin exploring the concept with their community partners, including young people and their families, and to make their interest known to regional and provincial decision-makers.
Eight New Communities Announced
add
On June 15, 2020, the Province of BC announced eight new Foundry centre locations joining the Foundry network, which will significantly improve access to health and wellness resources, services and supports for young people ages 12 to 24 and their families across British Columbia.
We will be working with the following eight communities and lead agencies to bring integrated mental health, substance use, primary care, youth and family peer supports, and social services to their communities:
There are currently nine open Foundry centres across the province in Campbell River, Victoria, Kelowna, the North Shore (North and West Vancouver), Prince George, downtown Vancouver, Abbotsford, Penticton and Maple Ridge/Pitt Meadows. There are also two more expected to open in 2020 in Richmond and Terrace.
View a recording of the expansion announcement and read the press release, which both detail the expansion of Foundry's network to a total of 19 centres province-wide by 2023.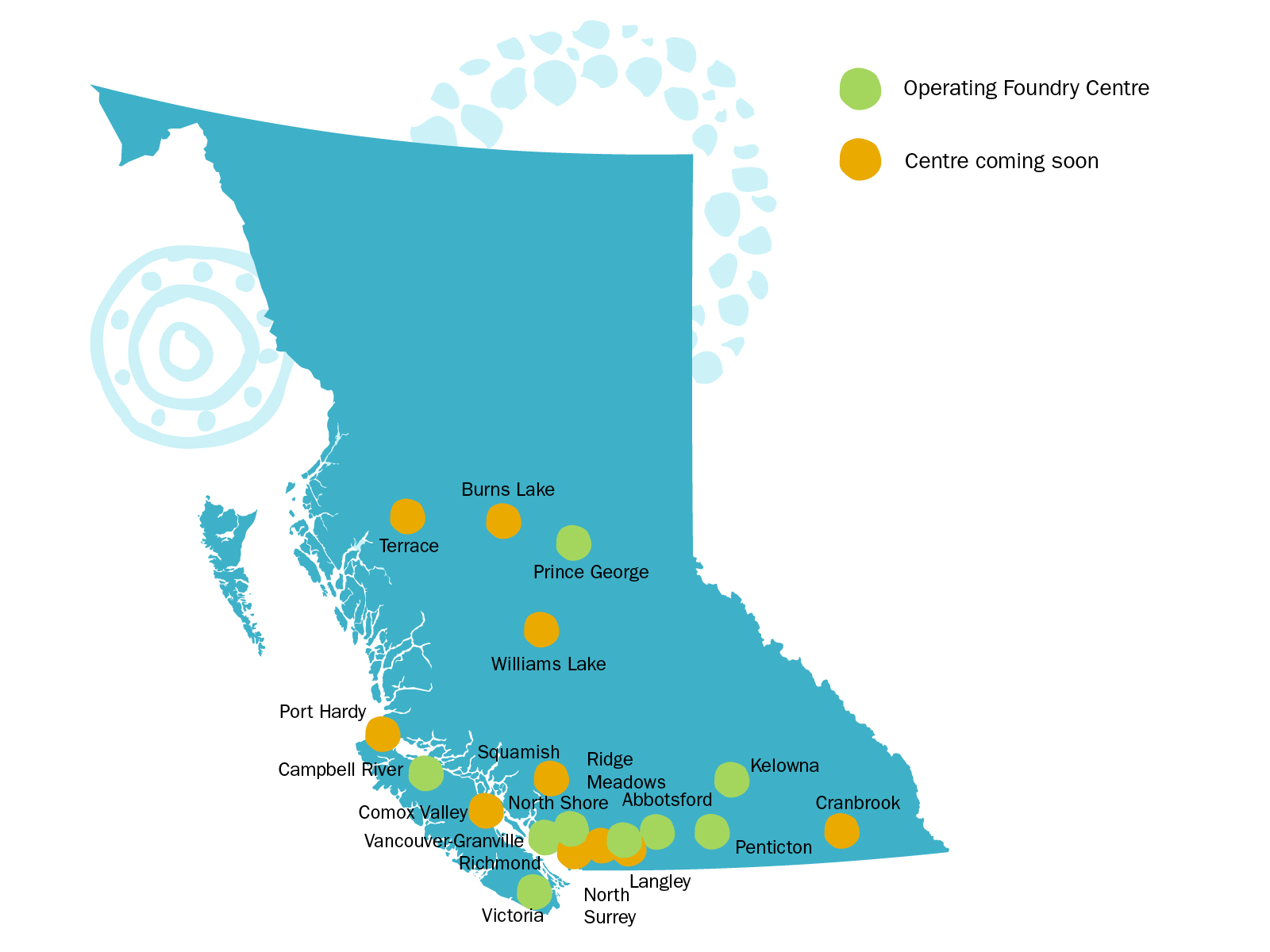 Welcome from Foundry's Eight New Communities:
The Expansion Process
Our expansion is part of the Ministry of Mental Health and Addictions' "A Pathway to Hope," strategy, which is the BC government's 10-year vision for mental health and addictions care that was launched in 2019 to provide British Columbians with the services they need to tackle problems early on and support their wellbeing.
In October 2019, we issued a call for expressions of interest (EOI) from communities across BC. Non-profit organizations and health and social system agencies serving youth were eligible to submit. In total, we received 40 EOI submissions– a moving demonstration of not only the need, but also the resiliency and strengths that exist in BC.
Two independent panels consisting of youth and caregiver advisors and subject matter experts reviewed those submissions to determine a short list of 19 communities who would move forward to a second phase (convening) of our selection process . The convening phase focused on the lead agency's readiness to successfully open and operate a Foundry centre, and enabled communities to network with each other and Foundry central office and network staff, as well as Foundry's youth and caregiver advisors.
Below, you'll find a video which outlines our expansion process!
Services for youth across BC 
Our centres will continue to be the place where young people and their caregivers can find the help they need, when they need it, to improve their health and wellbeing – even during this challenging and unprecedented time. 
For those unable to access Foundry centres due to physical distancing, location, and/or stigma, Foundry now offers virtual drop-in counselling and peer support sessions using voice, video and chat, and will soon also offer virtual primary care services. Please visit foundrybc.ca/virtual to learn more.