In BC, we are now in the second wave of the pandemic and there are updated guidelines in place as case numbers continue to rise. It can be a bit confusing and overwhelming as information keeps changing frequently, so we've summarized the latest key provincial guidelines for you. We are all in this together.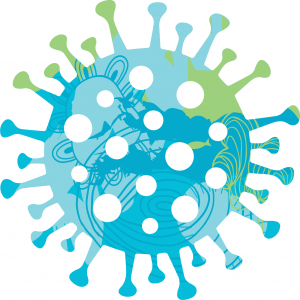 As of December 7, 2020 at midnight, the new temporary restrictions put in place on November 19. 2020 have been extended and expanded until January 8, 2021 at midnight. These restrictions apply to all communities in BC. The new orders focus on social gatherings, non-essential travel within BC and across Canada, physical activities and wearing masks in public spaces.
The key provincial restrictions are:
No events, parties or social gatherings of any size. This includes indoor and outdoor holiday events (even Christmas and New Years), outdoor skating events and going to the movie theatre.

There are a few exceptions if the event has a COVID-19 safety plan in place, including:

Drive-in events

such as religious services and holidays festival of lights. The event must have a maximum of 50 cars attend at the same time and people must stay in their cars

Drop-off events

such as holiday hampers and toy drives.

The event must have a maximum of 50 cars attend at the same time and people must maintain physical distancing.

Meals for people in need

such as soup kitchens, holiday meals at shelters and charities offering meals. Events must have a maximum of 50 people in attendance and consider providing pre-packaged meals to limit gatherings.

Going for a walk

is okay as long as it doesn't turn into a group of people meeting outside.

Going home to your family

during the holiday break from university

is not considered a social gathering. Just be mindful of travel restrictions.


Keep your social group to people your core bubble.

These are the

only

people you should spend time with whether you are at home, outside or at a restaurant.

If you live with others, they are your core bubble. This may include y

our immediate family, or y

our roommates

.

If you live alone, you can choose 1-2 people you regularly spend time with to be your social group. This may include a partner, relative, friend,

or a

co-parent who lives in a different household.
Pause group physical activities

. These activities increase your breathing rate in a close space and/or make it difficult to physically distance. 

High intensity group classes and activities that are considered high risk must stop until further notice include spin classes, hot yoga, bootcamp and HIIT classes.

Low intensity group activities that must temporarily stop include yoga, pilates, adult dance classes, light weightlifting and Tai-Chi.
Tip: Try an individual exercise or practice instead where you can safely physically distance. You can look up free home workouts online or go for a walk (alone or with your core bubble) or run outside.
Changes to indoor and outdoor team sports

. 

Adult (19+ years old) sports must stop until further notice. These include sports like basketball, cheerleading, hockey, martial arts, soccer and lacrosse.

Youth (under 19 years old) sports can continue but must follow physical distancing guidelines. This means, games, tournaments and competitions must temporarily stop.
No one is allowed to watch team sports at this time.
Travel for sport activities like games, competitions, training and practice is not allowed at this time.

Changes to youth activities. The following activities can continue if a COVID-19 safety plan is in place an adult is supervising:

 

Education programs
Music
Art
Dance
Drama
Recreational programs
Outdoor fitness
Social activities
Note: Performances and recitals are not allowed at this time.

Limit non-essential travel in and out of the Lower Mainland and between provinces within Canada

. Plan to stay close to home and reschedule any trips unless they are essential. Non-essential travel includes:

Traveling for vacation
Traveling to visit friends or family outside of your core bubble

Wear a non-medical mask. Wearing a mask is mandatory in public, indoor spaces, unless you are eating and drinking at your table at a restaurant or are unable to wear a mask due to health conditions. Public spaces include places like grocery stores, retail stores, coffee shops, restaurants and public transportation.

Work. It is strongly recommended you wear a mask at work when you are in shared areas or areas where it's difficult to physically distance. These spaces include kitchens, break rooms and elevators.
School. You are not required to wear a mask indoors at school because you are with the same group of peers everyday.Wearing a mask can help prevent the spread of COVID-19 when combined with other preventative measures. For more information on masks and how they help during COVID-19, see our article here.
You can read more on the new temporary restrictions that are in effect until December 7, 2020 here.
Here are some general things for everyone to keep in mind to help you and others stay safe:
Stay at home and away from others when you are feeling sick, even if symptoms are mild.

Practice good hygiene:

Wash your hands regularly

Avoid touching your face

Cough and sneeze into your elbow or sleeve

Clean frequently touched surfaces.

Keep physical distancing as much as possible when out in the community. Learn more about

physical distancing and why it helps during a pandemic

.

Greet people with a wave instead of a handshake, kiss or hug.

Take care of your mental well-being and practice

self-care.
The province is in a new kind of normal which can come with a lot of feelings of stress or anxiety when things still feel uncertain. Learn more about when "normal" might not feel so normal, and how to manage feelings of uncertainty as you find a new routine.
There's still a lot to deal with right now. It's important to find the right type of support for you if you need it. Keep in mind that the support you need can change as time passes. For many people, staying connected to family, friends, and loved ones is important. It is encouraged that you keep up with these connections virtually or remotely via phone, text, or email.
Where can I go to get support?
Foundry Virtual – Foundry is now offering virtual drop-in counselling sessions by voice, video and chat to young people ages 12-24 and their caregivers.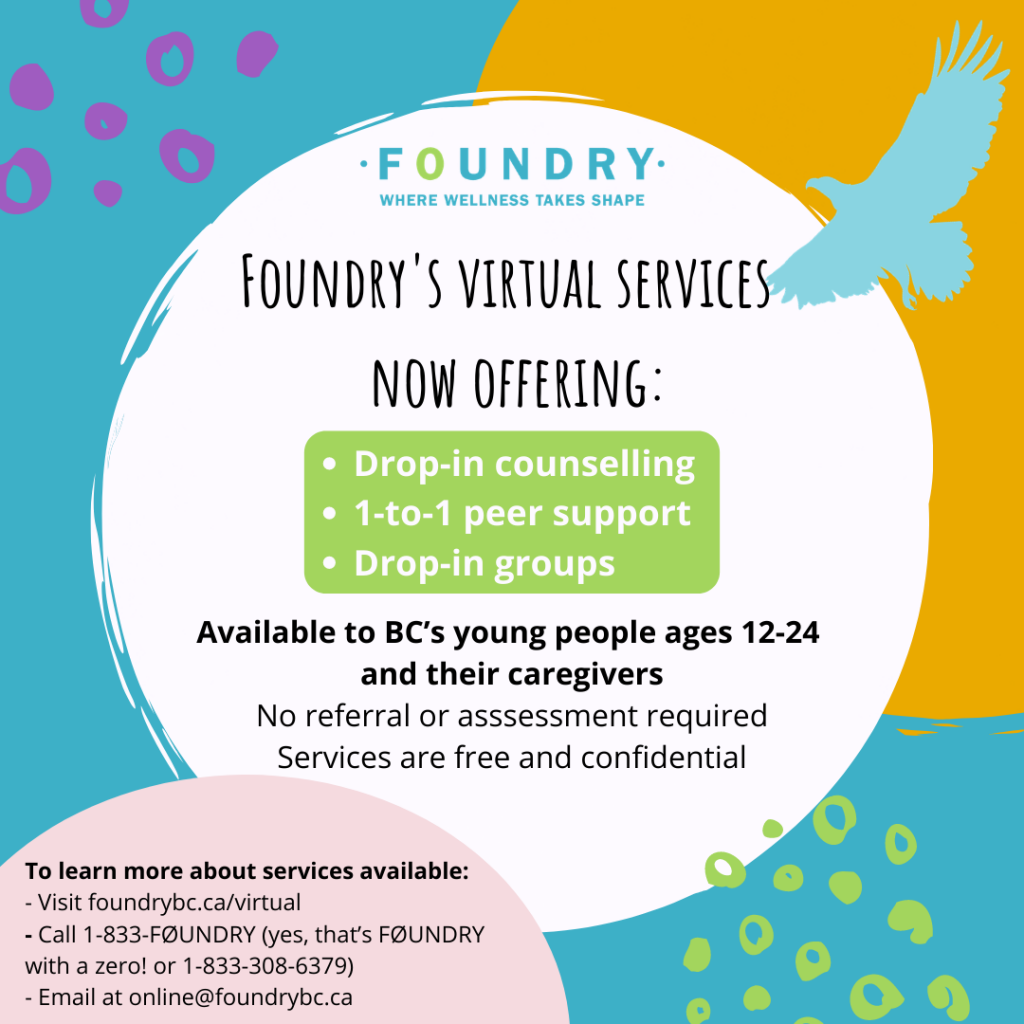 Changes to Foundry Centres
The safety, health and well-being of our young people and their families, staff and our community partners is our top priority. We've taken a number of measures at Foundry centres to ensure we are aligned with BC Centre for Disease Control's recommendations. A few of these measures include:
Plexiglass barriers at reception desk and waiting areas seating being spread out to accommodate for physical distancing
Staff members practicing physical distancing and being equipped with person protective equipment (PPE) including masks, gloves, etc.
Adjusting service hours to decrease number of people in center at once
Hand sanitizer or alcohol-based hand rub being available throughout the centre
Thorough cleaning of all shared equipment (including Toolbox iPads) after each client and all other areas of centre cleaned multiple times throughout the day
Resources available regarding COVID-19
For

non-medical information about COVID-19

call

1 888 COVID19

(1-888-268-4319) seven days a week, from 7:30 a.m. to 8 p.m. or text message

604-630-0300

. Information is available in more than 110 languages.

The BC COVID-19 Self-Assessment Tool

 can help you decide if you need testing for COVID-19. You can complete this assessment for yourself, or for someone else, if they are not able to.
Information is changing frequently. Check the BCCDC website for the latest on COVID-19.
Foundry's Response to COVID-19
Find out more about Foundry's response through our COVID-19 Report.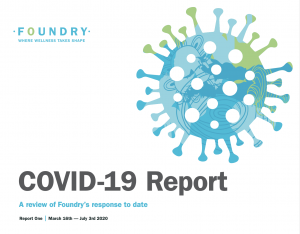 This page will be updated frequently, as new information becomes available.
Last Updated: December 10, 2020